Index-South Asian experts will experience more hot, more intense and longer sunshine due to climate change.
At the end of June, early July, extreme hot sunshine attacked Western America and Canada.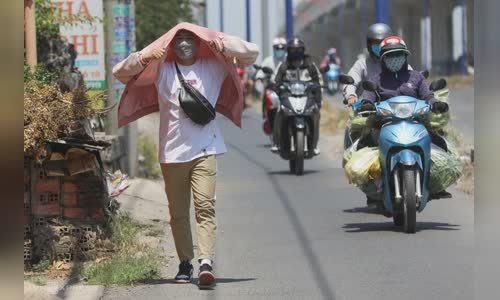 Northwestern America also bears the same situation when the hot sun ties a series of schools and businesses to close.
In this context, evaluating the risk of extreme hot sunshine occurs in Southeast Asia, Michael E. Mann, professor of atmospheric science at Pennsylvania State University, USA, told VnExpress: High temperature
A student walks out to the bus station in the hot sun 38 degrees C in Ho Chi Minh City in March.
Professor Kristie Ebi, from the Global Health and Environment Center of Washington University, has a common judgment.
McKinsey Global Institute in November 2020, reported that climate change caused Asia to face the dangers including floods, droughts and storms as well as high temperatures and humidity.
Asian countries with lower per capita GDP will face the most risks and the poor will be most severely affected, because they have to be exposed to harsh climate more than quite fake.
McKinsey Institute to assess Southeast Asia is likely to face the consequences of climate change worse than other regions of the world.
They forecast that by 2050, the risk of extreme rainfall can increase 3-4 times in Indonesia.
Professor Mann commented the only way to minimize vulnerability because of climate change for Vietnam and all other countries is to stop creating carbon emissions as a warm planet.
The world has only a narrow period of 10 years to reduce the amount of carbon emissions to half if we want to prevent the worst effects of climate change, he stressed.
Professor Ebi said the two basic actions were to increase the resistance to hot phases to reduce greenhouse gas emissions to reduce the intensity of heat wave in the future and develop action plans to prepare to deal
Specifically, the development of the action plan includes establishing an early alert and response system, zoning places vulnerable and providing appropriate response.
McKinsey Institute said an advantage of Southeast Asia in dealing with climate change as infrastructure and urban areas being built.
Like all other parts of the world, Asia can also contribute to reducing emissions.