President Nguyen Xuan Phuc introduced three collaborative proposals for APEC members, calling for strengthening coordination in the Vaccine Covid-19 field.
President Nguyen Xuan Phuc today participated in an unofficial meeting of the Economic Leaders of the Asia-Pacific Economic Cooperation Forum (APEC) to respond to Covid-19 pandemic and economic recovery.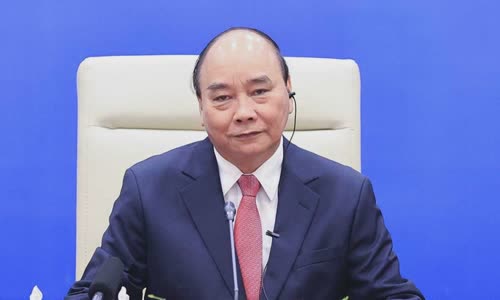 President Nguyen Xuan Phuc calls for APEC to strengthen cooperation in the Vaccine field, as this is a region to concentrate many leading production and supply centers in the world.
President Nguyen Xuan Phuc during the APEC online meeting on July 16.
President Nguyen Xuan Phuc offers three proposals for APEC cooperation, the first is to quickly implement the cooperation program to support weak or vulnerable groups in crises, improve self-enhancement and feasibility
Next is to promote regional cooperation on technology transfer, improve the capacity of research and production of vaccines, study the ability to develop APEC's temporary agreement on abolishing intellectual property rights with Vaccine Covid-
The President affirmed that Vietnam's commitment to continue working closely with APEC members to promote cooperation because the future is better.
Leaders of APEC member economies highly appreciated the statement by President Nguyen Xuan Phuc and putting the President's proposals into the general statement of the Conference.