At least 10 people were killed due to flash floods after heavy rains in the Central Province of Marme of Italy, while the three were missing.
Marme Province, Central Italy, on September 16, suffered flash floods after recording 400 mm rainfall for 2-3 hours, equivalent to 1/3 of the year rain.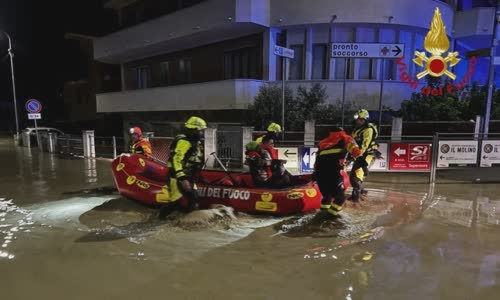 We received a warning, but no one thought that it was so serious, Stefano Aguzzi, head of the provincial Civil Self -Defense Agency Marrer.
This is a modal window.
Beginning of dialog window.
End of dialog window.
Heavy rains create flash floods attacking many towns, swept away many cars, creating a thick mud layer covering some areas.
The leader of the Italian National Civil Self -Defense Agency Fabrizio Curcio went to Ancona, the capital of Marche province, to evaluate the damage.
In Cantiano village, people have to clean the mud on the roads after the flash floods attack, causing many cars to be damaged and stuck.
Rescuers rescue people in Senigallia town, Italy, on the night of September 16.
About 300 firefighters are being mobilized and saved dozens of people trapped on the roof of the house and trees to avoid floods.
Paola Pino d'Astore, expert at the Italian Environment Geology Association (SIGEA), said that large floods originated from climate change and not easy to forecast.
New South Wales, Southeast Australia, continues to suffer heavy rain after the prolonged flood, causing the number of deaths in the country to increase to 17. 2
Flash floods and landslides attack Petropolis tourist city, turning streets into rivers, swept away a series of houses, causing at least 78 deaths.