The Greek police rescued 92 illegal migrants in a state of no clothes near the northern border with Turkey.
The Greek police on October 15 said that all migrants were male, discovered near the Evros River separating Greece and Turkey one day before.
The border police discovered that 92 illegal migrants did not wear clothes, in which some people were injured on the body, the police statement said.
It is not clear why these men lost their clothes.
A group of migrants on the Greek border in early October. Photo: Reuters.
Greek Immigration Minister Notis Mitarachi posted Twitter that the way Turkey treated migrants was a shame for the civilization and Athens expected Ankara to investigate the incident.
Turkish officials have not yet commented.
Greece at the top of the European migration crisis in 2015 and 2016, when about one million refugees fled the war and poverty in Syria, Iraq and Afghanistan to the country, mainly through Turkey.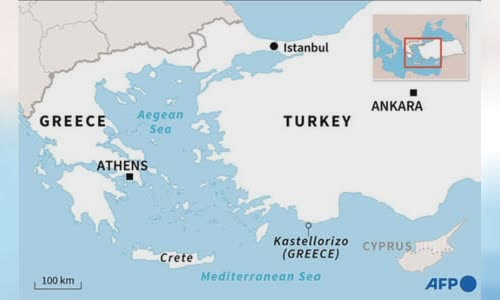 The number of people who came to Greece then decreased, but officials recently said they witnessed an increase in the wave of migrants who were trying to enter illegally from Turkey and Greek islands.
Greece urged Turkey to respect the 2016 agreement with the European Union (EU), in which Ankara agreed to control the flow of migrants to Europe in exchange for billions of euros.
Greek and Turkey position.
The Governor of Texas Abbott sent two buses carrying migrants to the mansion of US Vice President Harris to pressure this issue.
Veracruz state officials said at least 94 migrants escaped from the truck left on the highway before suffocating.