The 6 -year -old boy in Punjab was covered with metal kites on his neck while being carried by a motorbike and died later.
Daksh Giri boys in Ludhiana, Punjab, northern India on August 16, were allowed to sit in front of his father and his father moved by motorbike.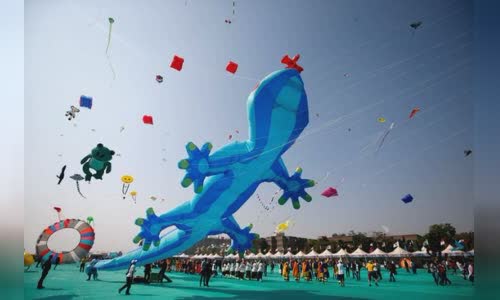 Such deaths are often recorded at this time of the year in India, when many kites fly independently from him.
After the competitions, kites can still ride on buildings or trees.
International kite flying festival in Ahmedabad city, Gujarat, India in 2018. Photo: Reuters.
Such kites have been banned in India since 2016 because of the danger to humans, animals and birds.
However, on August 7, Narendra Kumar was driving a motorbike home in New Delhi after a late food delivery, when he was entangled in a kite.
In June, Sumit Ranga, 30 years old, was also entangled in a kite rope while riding a motorbike.
Recent deaths have caused police in some states, including Delhi, strengthening efforts to prevent people selling metal -covered kites.
Kite flying is a popular entertainment in India, Pakistan, Afghanistan and Bangladesh, especially in festivals.
Two children and a young Indian young man died after being cut into the throat by the kite.
A 5 -year -old Indian boy was fortunate to escape death after being cut into his neck by a sharp kite.