During a visit to Russia last month, Myanmar Min Aung Hlaing met with defense industry officials, visited a shipyard and helicopter.
Thanks to Russia, our army has become one of the region's most powerful forces, General Min Aung Hlaing, Leaders of Myanmar military government, told Russia's Defense Minister Sergei Shoigu during the month of the month
According to Nikkei's Dimitri Simes commentators, some other leaders in Southeast Asia may also bring a similar view.
Between the US and China competing, the ASEAN countries have many obstacles to handling the crisis in Myanmar, Russia is asserting that they are a rising partner, Simes said.
Dmitry Mosyakov, expert in Southeast Asia at the Oriental Research Institute of the Russian Academy of Sciences, explains that the relationship down to the West has explored Moskva's concern for Southeast Asia.
Russian Defense Minister Sergei Shoigu (left) reception of Myanmar Min Aung Hlaing in Moskva on June 22.
If only looking at trade and investment numbers, Russia doesn't seem to be an important party.
In fact, Russia is the largest weapon supplier for Southeast Asia from 2000 to 2019 with 10.7 billion USD revenue.
Collin Koh, maritime security expert at Singapore Nanyang Technology University, indicated a number of reasons to help Russia lead the market.
Myanmar is one of Russia's recently prominent Southeast Asian customers.
Min Aung Hlaing, who had 7 visits Russia in the past decade, taking the lead efforts to promote defense cooperation between Moskva and Naypyidaw.
The relationship between the two sides increased after the coup in Myanmar in March. Russia has opposed the effort to further the Western Myanmar sanctions, and the first country to give up a senior official to Myanmar after the island
In May, Myanmar Air Force Commander Maung Maung Kyaw led an army to Moskva to attend a helicopter exhibition.
Although selling weapons is a trump card in Southeast Asia, it is undeniable for Russian trade and investment activities in the area lagging compared to the US, China, Japan and Europe.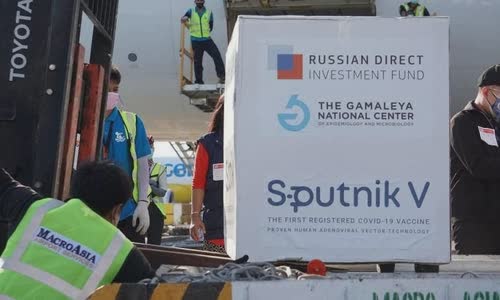 However, Pandemic Covid-19 is said to give Russia to prove them not only airplanes and weapons, when many Southeast Asian countries go to Vaccine Sputnik V. Many countries in the area ordered vaccine
Indonesia and Russia are supposed to be discussing the ability to cooperate in vaccines, while Thailand in April said Putin was committed to arranging their supply.
On July 9, Min Aung Hlaing said 2 million doses of Sputnik V would come to Myanmar to start this month.
Russia's sputnik V vaccine to international airport in Manila, Philippines, on May 1.
I think Sputnik V has helped to promote Russia's capacity and trade sector to many governments and individuals in South and Southeast Asia, places where many experiences have been trading with Russia.
In addition to Sputnik V, Russia is supposed to change the image through the free trade union-Economic Alliance (EAEU).
Vietnam is the first country to sign a free trade agreement with EAEU in 2015, followed by Singapore in 2019. Indonesia Minister Muhammad Lutfi recently announced the plan to establish a free trade area
Devonshire-Ellis thinks that EAEU attracts Southeast Asian countries because of its relatively large market, but does not compete or requires high as the European Union (EU).
Devonshire-Ellis supplements that for Southeast Asian exporters, Russia is also on a convenient road to Europe and Central Asia.
Although unknown ASEAN countries will strengthen deep cooperation with Russia, the two sides have a comprehensive action plan to cooperate in all aspects, from security, intelligent cities, to medical and management
Russia can certainly play a bigger role, because they are a power and are really likely to become an important partner with many Southeast Asian countries.