Israel Baruch stores sperm of the only son Amit Ben Ygal, soldiers died on the West Bank two years ago, hoping to have grandchildren.
Amit is everything to me, Mr. Baruch, 53, talking about his only son.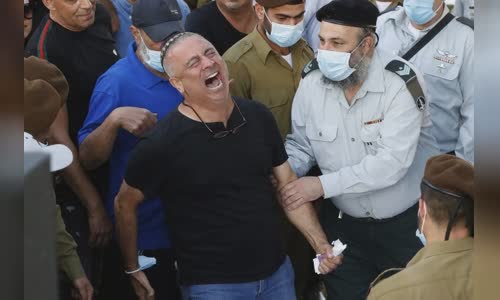 Amit, 21, was killed after being stoned by a Palestinian while participating in the Israeli army's raid campaign on the West Bank on May 12, 2020.
He wanted to use his sperm to have a grandson for a female volunteer, but could not do so because the Israeli law did not allow it.
However, officials are proposing the draft law to expand this right to soldiers' parents.
Baruch Ben Ygal (black shirt) at the funeral of his son Amit Ben Ygal at the Military Cemetery Yaakov near Tel Aviv, on 12/5.
Mr. Baruch and his wife divorced for a long time, Amit was his only son.
In Amit's bedroom, his photo hangs the wall.
The right -wing parliamentary ZVI Hauser has prepared the next bill to legalize Baruch's desire.
If a person died of a car accident, it was because he decided to go to the street.
Irit Oren Gunders, the leader of an organization to support relatives of soldiers killed and supported this initiative.
Oren Gunders said many women were willing to surrender from the soldiers and the battlefield sperm to help both parties benefit.
The bill continued in the first vote last month, but it was necessary to pass two more votes, after the new Israeli National Assembly was elected next month.
However, Bongyamin David, expert in the Puah Family Planning Institute, warned the bill seemed to focus on his parents' aspirations, not a soldier.
Meanwhile, Hauser thinks that it is possible to control this issue by issuing a form of consensus for soldiers when enlistment so that they can confirm whether they have such aspirations, and strictly manage the list of volunteers
Mr. Baruch said when he was still alive, his son had a girlfriend and once expressed his desire to have children, but the girl was not ready to give birth.
If there was a grandson before death, I could close my eyes peacefully, he said, pointing towards my empty apartment.
The CEO of a famous cosmetic company decided to spend US $ 77,000 to the US for artificial insemination after not finding the right husband.
Malaysia Queen Azizah shared that she had experienced 16 times in vitro fertilization before pregnancy, inspiring helping infertile people.