The UN Secretary General Antonio Guterres came to Hanoi, started the official two -day visit and met Vietnamese leaders.
UN Secretary General Guterres landed at Noi Bai airport in Hanoi capital this afternoon, starting an official visit to Vietnam from October 21 to October 22 at the invitation of President Nguyen Xuan Phuc.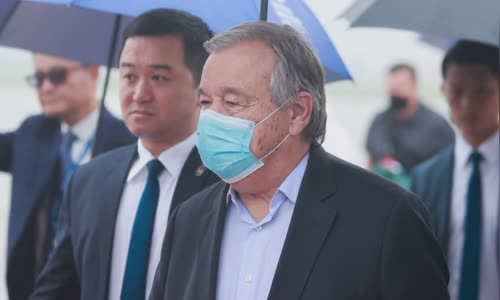 The visit took place in the context of Vietnam to celebrate the 45th anniversary of the United Nations, both successfully fulfilled the role of the non-permanent member of the Security Council for the 2020-2021 term and was elected as a member of the Human Rights Council.
Secretary General Guterres is scheduled to join President Nguyen Xuan Phuc co -chaired the 45th anniversary of Vietnam to join the United Nations.
Secretary General Guterres after leaving the plane at Noi Bai airport on the afternoon of October 21.
Vietnam became the 149th member of the United Nations on September 20, 1977 and has since been a reliable, positive and important partner to the organization's mission.
Cooperation between Vietnam and the United Nations is constantly strengthened and strengthened.
Vietnam is one of 14 countries elected by the General Assembly as a member of the UN Human Rights Council for the term 2023-2025 in the vote on October 11.
Mr. Guterres, former Portuguese Prime Minister, was elected UN Secretary General of January 1, 2017.
The UN Secretary General Guterres received Ambassador Dang Hoang Giang in New York and sent congratulations to Vietnam to be elected the Human Rights Council for the term 2023-2025.