Russia warned NATO to approach the military clash directly to the country while supplying weapons and supporting Ukraine.
NATO countries seem to be racing to provide Kiev weapons and ammunition, as well as providing intelligence, training and instructions on how to fight.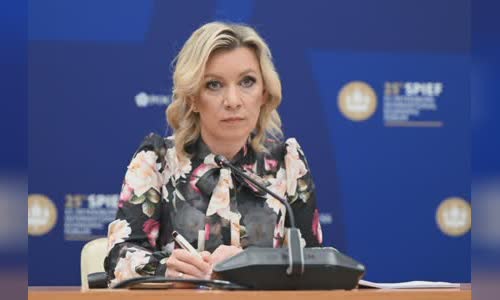 Zakharova cited data that Western countries spent USD 42.3 billion in military support for Ukraine, of which the US supplied US $ 28.3 billion.
The Russian Foreign Ministry spokesman also warned that Western advanced weapons transferred to Ukraine were being pushed into the black market and fell into criminal groups in the Middle East, Central Africa and Asia, but did not specify.
Russian Foreign Ministry spokesman Maria Zakharova at St. Petersburg on June 15.
NATO has not responded to Russia's statement.
The Kremlin Palace last week said NATO support with Ukraine made Russia more burdened, but did not affect the goals of the country's military campaign.
Moscow also accused NATO for fighting for Ukraine after NATO Secretary General Jens Stoltenberg said that Russian military victory in Ukraine would be a failure to all of us.
NATO, meanwhile, confirmed not directly participating in the conflict in Ukraine, despite supporting weapons for Kiev to deal with Russian military campaigns.
The US -led NATO member states have provided Ukraine with many military aid packages, including jet artillery, self -propelled artillery, grenade, anti -tank missiles, shoulder air defense missiles and many weapons of talent.
The Kremlin said that NATO Secretary -General could be considered as a confirmation of the Union that was fighting for Ukraine in conflict with Russia.
After Russia rained the rocket to Ukraine, the question of what to do to the West was to do to increase support for Kiev to deal with the escalating move of Moscow.
Ukraine bet on the West to win against Russia, but their allies seemed to be ready to pay too expensive to defeat Moscow.