The first time shooting the warning of China, Taiwan seemed to transmit a tough message that they were not afraid to respond strongly to Beijing.
Taiwanese defense forces on August 30 for the first time opened a warning of a Chinese drone (UAV) to close the money on Erdan Island, in the Kim Mon Islands, in the context of tension climbing climbing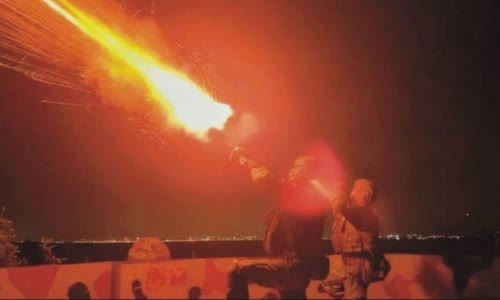 Taiwan had previously complained that Beijing's UAV continuously approached Taipei small islands to control near the Chinese coast, including the Kim Mon Islands, about 3 km from the Ha Mon city of China.
China has not commented on this information.
Taiwanese soldiers fired flares at China UAV.
Kathrin Hille, FT's commentator, said that the shooting warned the tough message from Taiwan, in order to resist China's increasingly drastic actions on the island.
Actions such as the UAV approach are probably part of the gray strategy that China is applying to weaken the Taiwanese defense force, Franz-Stefan Gady, a senior member at the Strategic Research Institute.
Although military threats from civil UAVs are relatively small, Taiwan still needs to find effective preventive measures to avoid creating tactical precedents for bigger UAVs, even armed and approaching.
The assertive shooting move made by Taiwan in the context that they must try to find a balancing solution between the risk of conflict outbreaks and desire to prevent China impose control to the waters and the airspace
This message was expressed in the speech of August 30 of Taiwanese leader Thai English, when she noted the island's defense forces that the opponent was provocative, the more we had to be calm.
Ms. Thai's statement is considered a green light signal for Taiwanese defense forces to take more fierce response measures against the consecutive approach of China in the Kim Mon Islands, despite the move.
Last week, many videos shot from UAV appeared on Chinese social networks, showing that Taiwanese soldiers discovered that unmanned aircraft could only point guns without daring to shoot, even throwing stones to chase away.
We follow the process.
Taiwan's tough attitude was also expressed through August 31 of Lin Wen-Huang, Deputy Commander in charge of combat and advisory of the island defense force.
According to high -ranking Taiwanese officials, how to deal with UAV's intrusion is one of the priority issues of the government when the script responds to military escalation moves from China.
In May, Taiwanese defense forces approved US $ 146 million in UAV defense systems for military bases, but the installation process they had not been completed.
Analysts say that UAV approaches military facilities can be considered as hostile targets, whereby Taiwan has the right to implement self -defense measures, but it is not necessary to shoot down them.
Taiwanese forces may use electronic interventions to disable UAV, Gady said, referring to the technology that caused UAV to be blocked control, landing on the spot or returning to the departure place.
The warning to warn is evidence that the Beijing military pressure on Taiwan can completely lead to stressful situations, potentially causing conflict in the field, observers evaluation.
In early August, China conducted an unprecedented military exercise to respond to the Taipei visit of US House of Representatives Nancy Pelosi.
Howard W French, Professor of Columbia, USA, said that when the Taiwan Stress tensions continued to increase heat, the current urgent problem was to find a way to prevent conflicts from outbreaks from unexpected incidents like.
With an increasingly tough view from both sides, there will be no guarantee of conflict will not happen, French writes.