Leaders of Laos, China, Cambodia, Russia, Japan and Italy on April 5 to congratulate the new President of the country, Prime Minister and Chairman of the National Assembly of Vietnam.
In the sending letter and calling to congratulate, the General Secretary, Lao President Lao Thunglun Sisolith expressed the trust of President Nguyen Xuan Phuc and the new leadership will continue to bring Vietnam to win bigger achievements, follow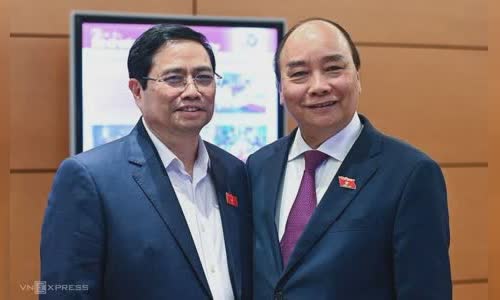 Lao Prime Minister Phankham Viphavanh sent the electricity to celebrate the Prime Minister Pham Minh Chinh, expressed his best with comrades with a friendly relationship "between the two countries," because of peace, stability and development cooperation in the area
Mr. Nguyen Xuan Phuc and Mr. Pham Minh Chinh on the National Assembly corridor on March 30.
Chinese President episodes NEW and Chinese Prime Minister Ly Khac Cuong to send electricity to celebrate the new President Nguyen Xuan Phuc and New Prime Minister Pham Minh Chinh.
Chairman of the People's Committee of Cambodia, Cambodian Prime Minister Hun Sen sent a celebration and called congratulating President Nguyen Xuan Phuc, sent a letter to congratulate Prime Minister Pham Minh Chinh.
Mr. Hun Sen appreciated the impressive achievements that Vietnam achieved in recent years, as well as Covid-19 response.
In the Power congratulates President Nguyen Xuan Phuc, Russian President Vladimir Putin said that the results of voting in the National Assembly are demonstrating to the great reputation that Chairman Nguyen Xuan Phuc deserves it.
The Russian President affirmed the friendship, a long-standing respect between the two countries, believing in the two sides will strive to develop bilateral strategic partnerships, mutually beneficial cooperation in the fields, stable consolidation and stability and
Foreign, Japanese Prime Minister Suga Yoshihide, President Italy Sergio Matterella, Italy Roberto Fico Housekeeper also sent electricity to Vietnam's new leaders.
Vietnam National Assembly approved the resolution of electing Mr. Nguyen Xuan Phuc, Member of the Politburo, served as the President with the ratio of 97.5% in April 5 and electing Mr. Pham Minh Chinh to hold the prime minister, at the time