President Nguyen Xuan Phuc mentioned three proposals for climate action when attending the UN Security Council meeting on climate security.
Speaking at the meeting was chaired by Prime Minister Irish Michael Martin at the United Nations Headquarters in New York, USA on September 23, President Nguyen Xuan Phuc emphasized the fierce impact of climate change throughout the Europe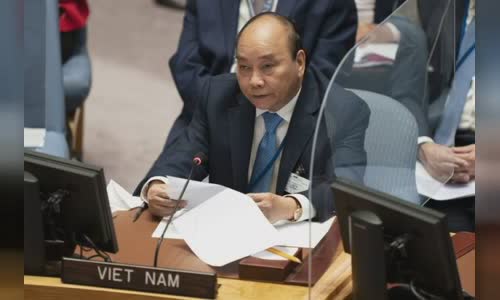 This is really a red warning, the Front does not sound guns but causes economic losses, life is equally dangerous as war, hot conflict, President Nguyen Xuan Phuc said.
President Nguyen Xuan Phuc spoke at the senior discussion of the United Nations Security Council for Climate Change in New York, the United States on September 23.
The President offers recommendations on three groups of solutions that the Security Council and the United Nations need to take action in the coming time.
First, the Security Council needs to take the lead to build mechanisms for evaluation, forecast and warning of climate security risks early, remotely to actively respond, as a basis for response policy planning
The President also emphasized the interests of people, especially vulnerable groups, in a central position to be able to harmonize a close relationship between security, development and humane
Thirdly, President Nguyen Xuan Phuc proposed to ensure sovereignty, key role and self-enhancement capacity of countries in efforts to minimize and adapt to climate change, strengthen cooperation in national cooperation
According to the President, Vietnam is one of the countries most affected by climate change.
President Nguyen Xuan Phuc also affirmed its strong determination and commitment to responding to climate change, developing green, sustainable economies, less carbon emissions.