The UAE today signed a natural gas and diesel -based supply agreement with Germany to help the country ensure energy security.
During the signing ceremony, under the witness of German Prime Minister Olaf Scholz, the United Arab Kingdom Industry Minister (UAE) Sultan Ahmed Al Jaber called this a new turning point to strengthen the partnership relationship.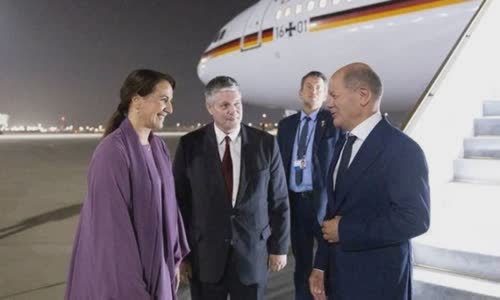 German Chancellor Olaf Scholz (on the right) was climate change and environment of UAE Mariam Bint Mohammed Almheiri and a number of other officials at the airport at Abu Dhabi on September 24.
Prime Minister Scholz was on a business trip to the UAE, where he had a meeting with President Mohamed Bin Zayed al-Nahyan.
Under the Agreement, the UAE will provide a lot of liquefied natural gas batches (LNG) to Germany, expected to be delivered by the end of this year, when the German floating reception facility in Brunsbuettel came into operation.
The UAE DNAOC State Petroleum Company also completed the first diesel lottery for Germany earlier this month and will provide up to 250,000 tons of diesel oil per month to Germany in 2023.
Mr. Scholz is traveling in the Gulf in the hope of signing new energy agreements to replace the supply of fuel from Russia and mitigate the impact from the energy crisis originating from the Russian -Ukraine conflict.
Yesterday, the German Prime Minister met Crown Prince Saudi Mohammed bin Salman and at the end of today, he will fly to Qatar to talk to King Tamim Bin Hamad Al-Thani.