The US has asked China three times to allow a team of medical experts to come to Wuhan to learn about the pneumonia epidemic but it was not approved.
U.S. President Donald Trump's administration has made two direct suggestions to China on sending a team of experts from the Centers for Disease Control and Prevention (CDC) to Wuhan City to join Chinese health workers in battle. fights pneumonia caused by nCoV virus.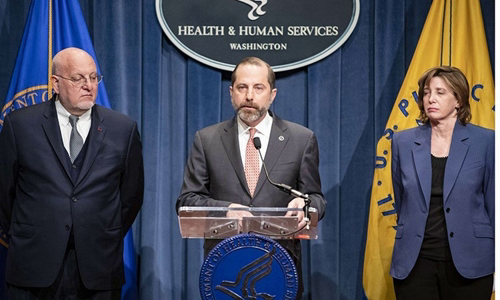 After two unsuccessful proposals, Washington continued to make an indirect proposal through the World Health Organization (WHO), but neither was approved by Beijing, the Secretary of the US Department of Health and Human Services. Alex Azar said during a press conference in Washington on January 28.
Azar said that the CDC expert team was ready to come to China immediately, but had not received a response from the Chinese government about becoming a bilateral working group, or accepting a request to send its own expert group. US government to Wuhan to work under WHO authorization.
"We urge China to be more cooperative and transparent is the most important step towards a more effective response," Azar said. He asked China to provide more data on the virus infections in this country because health officials around the world need to join forces to prevent the disease outbreak more serious.
In a question and answer session at the end of the press conference, a reporter told Azar that WHO had announced that China would allow international experts to come to the country to support the fight against Wuhan pneumonia, but it was unclear whether the medical staff. US participation is involved or not.
When asked to comment on the new development, Azar laughed and replied that he had not received that information before holding the press conference and was unaware of the new decision by the Chinese. "But if that's the case, that's good news and I think CDC staff will be involved in this effort," he said.
An outbreak of pneumonia caused by nCoV virus appeared in Wuhan in late December and quickly spread to more than 15 countries and territories. The number of cases of pneumonia in China today has reached 5,974, exceeding 5,327 cases of SARS in 2002-2003.
CDC Director Robert Redfield said the agency was looking for data on cases of infection through contact with people who had no symptoms to find out how the disease was spread and how dangerous it was. The United States has evacuated 110 people from Wuhan, including five cases of symptoms of corona virus infection.