India: An overloaded bus crashed in a state in Maharashtra on January 28, causing both vehicles to fall into a well that killed at least 26 people.
The long-distance bus has hit a bar directly in Nashik city, Maharashtra state, western India. The impact was so strong that the bus dragged the bike and both vehicles fell into a large well by the side of the road.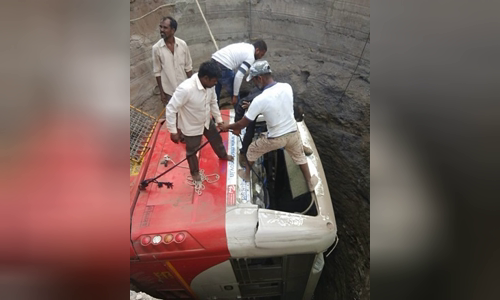 Rescuers must work through the night to rescue survivors and get the dead out of the well. Twenty-six people died after the accident, including a 7-year-old girl and a bus driver. 32 injured people are being treated at the hospital.
Rescue teams must use a crane to get the red and white bus out of the well. Rescue operations ended this morning and the victims were mostly passengers on buses. Indian Prime Minister Narendra Modi sent his condolences on the accident.
India has the highest traffic accident death rate in the world, with 15,000 people dying each year. The cause of the accident is often due to downgraded roads, poorly maintained vehicles and sloppy driving. Experts say many of the highways and roads have a design fault, making driving a daily risk, especially during the winter when visibility is greatly reduced.