Covid-19 broke out, making hugs, shaking hands or kissing all rejected, replaced by simple eye contact and simple hand gestures.
People around the world are gradually changing the habits of communicating at work, at home or in spiritual places to reduce the risk of nCoV infection and prevent the spread of disease.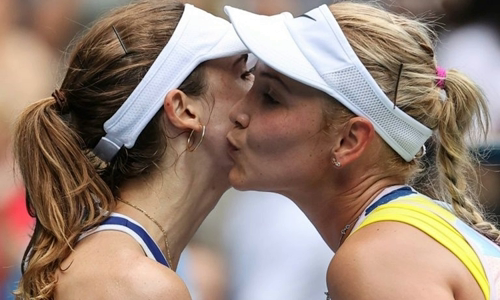 In the capital, Beijing, China, which started Covid-19, red banners spread everywhere advising people not to shake hands. Public speakers reminded people to use the traditional hand-holding method, in which one hand holds tightly on the opposite palm, to say hello.
The French press also offers countless tips to avoid greetings by kissing on the cheek, a common form of communication in this country, even among people who just meet. Handshake is also a popular way of greeting at French companies. Communication expert Philippe Lichtfus said direct eye contact can also be considered greeting instead of having close contact.
Meanwhile, the Brazilian Ministry of Health also recommends that people should not share metal straws when enjoying "chimarrao," a traditional South American beverage rich in caffeine. Officials also suggest that people should not greet with kisses.
German Interior Minister Horst Seehofer on March 2 surprised many by refusing to shake hands with Chancellor Angela Merkel, instead he just smiled at her. Merkel then raised her hands in the air as a greeting gesture and both laughed.
The outbreak of Covid-19 could also affect a traditional Spanish ritual: kissing the statue of the Virgin Mary during Easter Week. A month before the holiday, Spanish health official Fernando Simon said the ritual could be banned to ensure safety. During the week, believers often line up to kiss the statue of the Blessed Virgin and other saints.
At the Romanian Martisor festival marking the beginning of spring, all attendees will exchange flowers and prayer strings for each other, usually male and female. However, the government has recommended that people should only give gifts instead of kissing their accompanying kisses to avoid infection.
In Poland, one of the countries with the largest Catholic community in Europe, believers in "spiritual communion" can receive the bread instead of their own hands. Believers are also asked not to take their hands in the holy water and to replace it by making the sign of the cross.
In Iran, where 66 people have died from nCoV, a video showed a group of friends wearing masks greeting each other by beating their legs instead of beating their hands. A video in Lebanon also shows footage of singer Ragheb Alama and comedian Michel Abou Sleiman greeting each other.
Some educational institutions in New Zealand are calling for a pause in the "Maori" greeting, in which the two will touch their noses. New South Wales health chief Brad Hazzard also asked Australians to be cautious about kissing and give a pat on the back to say hello instead of shaking hands.
"We can do many other things. I'm not saying kissing is forbidden, but you definitely have to be wary of the person you kiss," Hazzard said.
The UAE and Qatar also warn people not to greet by touching the traditional nose. Officials asked people to wave to each other instead of shaking hands or kissing. In the United States, basketball players are also advised to limit interaction and avoid taking gifts from fans.
The Covid-19 outbreak has been reported in 76 countries and territories after the outbreak in China in December 2019. The world currently records more than 90,000 cases of nCoV, of which more than 3,000 have died and more than 48,000 have recovered.