Colonel Brett Crozier, who lost his position because he urged the navy to evacuate USS Theodore Roosevelt, was determined to be positive for nCoV.
Colonel Crozier had symptoms of Covid-19 since he was removed from office on April 3 and received a positive test result with nCoV, two classmates at the U.S. Naval Academy and close to his family. revealed yesterday.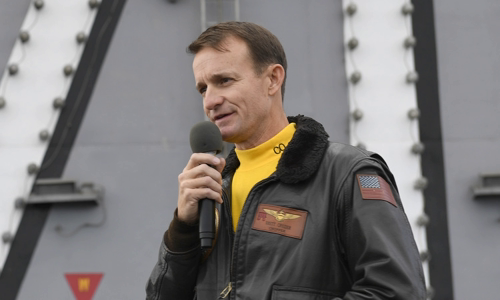 US Navy spokesman declined to comment on this information. Currently the health status of Colonel Crozier has not been revealed.
Acting Navy Secretary Thomas Modly last week announced his removal of Crozier on the grounds that he sent too many people a memorandum describing the situation of sailors infected with nCoV on board. In the letter, Crozier called for the evacuation of 4,000 sailors from the aircraft carrier USS Theodore Roosevelt to prevent Covid-19 from spreading after many people aboard became ill.
Some US Navy officials claim that the letter caused panic for USS crew Theodore Roosevelt and their families. Observers said the US Navy decision to dismiss "speed" may be due to Crozier exposed the fact that this force could not protect his crew and embarrass the leadership.
The first three cases of nCoV were recorded on USS Theodore Roosevelt on March 25, but it was difficult to identify the source of infection due to C-2 Greyhound muscle transports from US bases in South Korea and Japan. .
The US Navy suspended the mission of the aircraft carrier Theodore Roosevelt one day later, requesting the battleship to dock in Guam to test the crew. US Defense Secretary Mark Esper said half of more than 5,000 crew members were tested, of which 155 were positive for nCoV.