Millions of Indians turned off the lights, lit candles at Modi's call to show solidarity and chant slogans to ban Covid-19.
Indian Prime Minister Narenda Modi called on 1.3 billion people to turn off the lights for 9 minutes at 21:00 pm on April 5 to "challenge the darkness of the crisis, spread the victory of light across the four corners".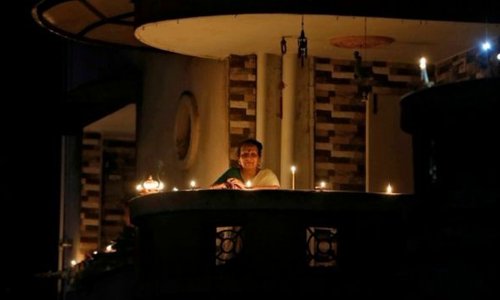 Millions of people last night responded to the call by turning off lights, lighting candles or turning on their phones flashes and waving from balconies. Others light candles into Indian messages and maps.
People chanted "Great Indian Motherland" and "get rid of corona", shouted, applauded and even lit firecrackers and fireworks, dispelling the quiet atmosphere of the nation in the blockade.
Modi also turned off the lights and lit the oil lamp at his mansion in New Delhi. "The light of the lamp brings luck, health and prosperity, dispelling negative emotions," he wrote on Twitter.
Critics, however, criticized that the event was just a show off to distract public opinion from the health and economic crisis caused by Covid-19.
India currently records more than 3,500 nCoV infections, of which about 100 have died, according to the latest data from Johns Hopkins University. Actual figures are said to be much higher, as India has one of the lowest test rates in the world. An outbreak of this 1.3 billion people nation could lead to a humanitarian disaster.
Modi has imposed a nationwide blockade for 21 days since March 25, leaving millions of poor people trapped in large cities without jobs.
Last week, he apologized to the poor for the effects of the blockade, but said there were no other measures to curb the spread of the virus. Indian officials warned that the blockade order could last for more than 21 days in some areas.