Pennsylvania state officials found that a seasonal election official had thrown nine mail ballots in the trash, seven of which went to Trump.
"An employee who signs on a temporary basis with an electoral agency tasked with sorting ballots by mail incorrectly removes some UMOVA ballots in the trash," said Electoral commission chief David Pedri.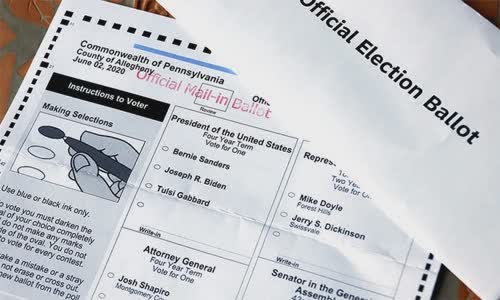 UMOVA is the term for the vote of US military personnel and voters abroad.
The Central District Prosecutor's Office, Pennsylvania, said on June 24 that the nine ballots were found in a trash can next to the building of the Luzerne County electoral commission.
"The Luzerne county electoral staff did not know who these ballots were for, until the information was released by the authorities on September 24," the Luzerne county government said in a statement.
Pedri said the interim worker has been working at the county elections office since September 14.
After an internal investigation, Watchilla contacted the Luzerne County Legal Department and was advised to report the matter to the authorities.
The FBI then checked these bags and confiscated them for investigation.
Under Pennsylvania election law, election officials are not permitted to open ballot envelopes while campaigning continues.
Luzerne County and the Pennsylvania secretary's office plan additional training for electoral staff and install security cameras to monitor the election office to "ensure the entire staff adhere to the process".
This is a modal window.
Beginning of dialog window.
End of dialog window.
A US Justice Department official said on September 25 that Secretary William Barr directly reported to President Donald Trump about the investigation before the information was released.
However, FBI Director Christopher Wray said it is unlikely that large-scale fraud with mail voting would occur.
Voters in some US states can vote early by mail or to a polling place in September, even though the election date is set on November 3.