Jill Biden is no stranger to the political scene, being a senator's wife for a long time and becoming the second lady of America for 8 years.
But if Joe Biden is elected president, his 69-year-old wife will get the chance to build a 21st-century American first lady image, by continuing her full-time job as a professor.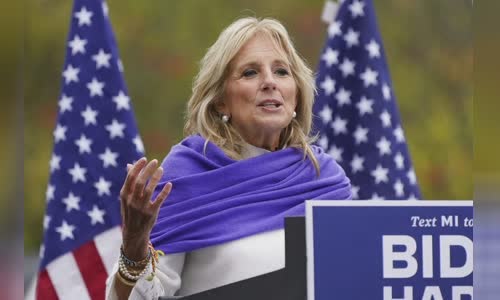 "Most American women have both jobs and families, but first ladies have never been allowed to," said Katherine Jellison, a history professor at Ohio University.
Mrs. Jill for many years has been a trusted advisor to her husband, who is 8 years older than her.
She is also a teacher, mother and spiritual source for Mr. Biden after the tragedy nearly five decades ago.
In 1972, Joe Biden was faced with the unthinkable: his young wife and daughter were killed in a car accident.
Jill Jacobs was born in 1951 and raised in the suburbs of Philadelphia.
The two married in 1977. They have a daughter together, Ashley, born in 1981.
Although busy caring for her family, Jill still earned two master's degrees and eventually got a doctorate in education.
The Biden and his wife have gone through two failed presidential elections, 8 years as vice president and overcame the pain when Beau's eldest son died of cancer.
"She helped keep the family together," Biden said in a video shown during the National Democratic congress in August, when he described Jill's influence on a family that has been through a lot of tragedy.
Jill assumed the role of second lady in 2009, when her husband became Barack Obama's vice president, attended high-profile events with First Lady Michelle, and developed a relaxed speaking style in front of the crowd.
Now, during her husband's third run to the White House, Jill is one of his most powerful and effective agents.
She often portrays her husband as a charismatic candidate not only towards moderate Democrats, but also among frustrated Trump's independence and Republican supporters.
In March, she also acted as a guard for her husband at an event in Los Angeles, when she stopped two protesters trying to crash into Biden on stage.
In her online speech at the Democratic national conference from a classroom at Wilmington High, where she taught in the 1990s, she emphasized her husband's personality, energy, and heart.
"How do you join a traumatic family?" She said of Biden's perseverance to overcome adversity, a quality she believes creates the connection between him and the millions of American families who suffer
"It's like uniting a country," she added.
If Biden was elected president, Jill could have a very busy schedule of teaching and serving as first lady in the East Wing of the White House.
Kate Andersen Brower, author of a book about America's first ladies, said: "If Jill Biden continues her teaching job, she will blow new breaths of expectations and remove the limitations of the position.
"Balancing professions with the first lady's strenuous duties will be a difficult one, but it will broaden our thinking about the abilities of women presidents," Brower said.
Jellison warned that Jill could face a backlash from people wanting a more traditional first lady, but she and Brower both agree that it's time for a change.
"There will definitely be a day when we have a first lady and I don't think anyone is expecting him to quit his job," Brower said.