Globally, more than 111 million cases, nearly 2.5 million deaths from nCoV, are recorded globally, and more than 200 million doses of Covid-19 vaccine have been injected.
The world has recorded 111,595,331 cases of nCoV infection, of which 2,471,015 people died, an increase of 383,219 and 9,128 cases, respectively.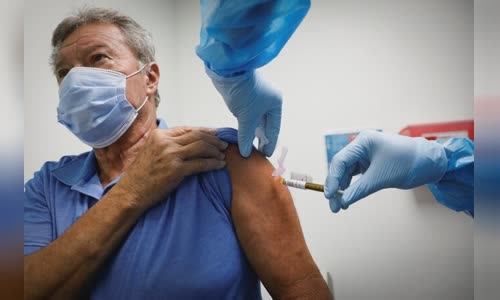 In total, 201,042,149 doses of Covid-19 vaccine had been injected around the world by 10 p.m. on February 20 in at least 107 countries and territories, according to AFP data based on official sources.
About 45% of the vaccines are given in G7 countries, where only 10% of the world's population is.
G7 leaders plan to double their total support for the global Covid-19 vaccination effort, to $ 7.5 billion, including through the World Health Organization's COVAX program.
92% of global vaccine doses have been injected in countries where the World Bank (WB) classified as "high income" or "average income", accounting for about half of the world's population.
Israel is far ahead of other countries in the world, with nearly half of the population receiving at least one dose of Covid-19 vaccine.
Some other countries have vaccinated for more than 10% of the population at least one vaccine dose of England (25%), Bahrain (16%), USA (13%), Chile (12%), Republic of Seychelles in East Africa (
The United States, the world's largest epidemic region, recorded 61,990 more infections and 1,672 deaths, bringing the total to 28,670,843 and 509,641, respectively.
Data analysis from Johns Hopkins University as of February 19, CNN said that new cases in the US decreased by 29% compared to a week ago, this is the strongest decline in a week that America ever witnessed in pandemic.
During a press conference at the White House on Feb. 19, CDC director Rochelle Walensky said new cases in the US fell for five consecutive weeks, the average seven-day new case has dropped 69 percent since it peaked on Nov. 11.
However, this reduction does not necessarily reflect the reality, as severe winter weather forced officials to close down test stations, affecting the collection of important data.
Several states affected by winter storms are seeing a huge drop in new cases this week, including Texas, where new cases are down 56 percent from last week.
However, earlier this week, Dr. Ashish Jha, dean of Brown University School of Public Health and Dr. Jonathan Reiner, professor of medicine and surgery at George Washington University, both pointed out that people are increasingly
India, the second largest epidemic region in the world, reported 14,315 more infections and 99 deaths, bringing the total number of people infected and dead from COV to 10,991,091 and 156,339 respectively.
The Indian government, the country possesses the world's largest vaccine production capacity, yesterday said it will increase 5 times the number of Vaccine Covid-19 vaccinations, after an injection of nearly 9 million doses in a month.
60% of India's nearly 10 million health workers have been vaccinated since the vaccination campaign kicked off on Jan. 16.
Brazil, the world's third largest translation area, recorded an additional 1,022 people, bringing the total number of deaths to 245.977.
The town of Serrana on February 17 began vaccinating the entire adult population, marking the first clinical vaccination trial in Brazil.
However, the Brazilian authorities are drawing criticism for the slow and chaotic launch of the immunization campaign.
UK, the fifth largest epidemic region in the world, recorded an additional 10,406 cases and 445 deaths, bringing the total number of infections and deaths to 4,105,675 and 120,365 respectively.
Statistics show that more than 16 million people received their first dose of Covid-19 vaccine more than two months after the start of the vaccination program.
France, the sixth largest epidemic region in the world, recorded an additional 22,371 cases and 183 deaths, bringing the total number of infections and deaths to 3,583,135 and 84,147, respectively.
More than 3.3 million French people have vaccinated with Covid-19.
In Southeast Asia, Indonesia is the region's largest epidemic with 1,271,353 cases, an increase of 8,054, of which 34,316 deaths, an increase of 164. However, experts say that the actual number of infections in Indonesia may
Indonesia on February 17 launched its second mass immunization campaign, focusing on people who have much exposure to the public such as market traders, teachers, police, civil servants and people over 60.
Earlier, in the first phase focused on medical staff, 1.1 million people were vaccinated.
The nearly 270 million people country plans to vaccinate more than 180 million people, but analysts estimate that could take several years.
The Philippines, the second largest epidemic region in Southeast Asia, recorded 559,288 cases and 12,068 deaths, up 2,240 and 239 cases, respectively.
From being one of Asia's fastest growing countries before the pandemic, the Philippines suffered its worst economic slowdown in 2020, due to a strict blockade that forced businesses to shut down and push millions
Due to the appearance of NCOV's transformations more spread from England in the Philippines, President Rodrigo Duterte late January decided to re-impose a ban on 10-14-year-old children leaving home, despite having to worry about this will make the Sutra