Globally, with more than 64.7 million cases and nearly 1.5 million deaths, the US CDC recommends shortening the quarantine period from 14 to 10 days.
The world recorded 64,783,598 cases and 1,497,883 deaths from nCoV, an increase of 667,967 and 13,087 cases a day, respectively, while 44,888,811 people recovered, according to Worldometers real-time update page.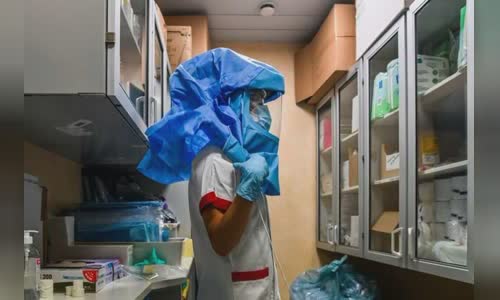 The United States, the world's largest epidemic region, recorded an additional 178,427 infections and 2,314 deaths in the past 24 hours, bringing the total number of infections to 14,069,037, of which 276,448 died.
According to the Institute of Health Measurement and Evaluation at the University of Washington, the average number of deaths in the month from Covid-19 in the US is expected to nearly double in December, to more than 70,000, then continue to increase.
The Centers for Disease Control and Prevention (CDC) on December 2 recommends shortening the quarantine period for people exposed to people with nCoV from 14 to 10 days if they have not been tested and have no symptoms.
The quarantine period can be reduced to as little as 7 days if the person tests negative.
India, the second largest epidemic region in the world, reported an additional 31,585 cases and 469 deaths, bringing the total number of people infected and dead from Covid-19 to 9,531,295 and 138,628 respectively.
The capital New Delhi is going through the worst of the pandemic, with many hospitals falling into overcrowding.
Indian Prime Minister Narendra Modi visited last week's vaccine production facilities, emphasizing the importance of Covid-19 vaccine in pandemic control.
However, Rajesh Bhushan, a senior official with the Indian Health Ministry, said yesterday "the government has never talked about national vaccination", further explaining that it only needs to inject the largest number of people.
Brazil, the third largest epidemic region in the world, recorded an additional 653 deaths from COV, bringing the total number of deaths to 174,515.
The average number of new infections in Brazil increased from 10,000 a day in early November to more than 50,000 a day, while the number of deaths per day increased nearly nine times in just one week.
State governors and opposition politicians are urging President Jair Bolsonaro's government to plan national vaccinations.
France, the fifth largest epidemic region in the world, reported 2,244,635 cases and 53,816 deaths, after additional 14,064 and 310 cases were recorded, respectively.
The government eased a second national blockade because of Covid-19, which was in effect October 30, with all stores reopening on weekends.
He reported an additional 16,170 cases and 603 deaths, bringing infections and deaths to 1,643,086 and 59,051 respectively.
The British Parliament yesterday continued to pass a plan to control Covid-19 at the regional level, forcing more than 40% of the population to be subject to strict restrictions, despite the objections of dozens of MPs in the Conservative party
Germany recorded 14,156 new infections and 329 new deaths, bringing the total to 1,069,763 and 16,862, respectively.
Germany's response to the first Covid-19 wave was appreciated, but after the relaxation of preventive measures when the second wave hit Europe, the number of infections was recorded quite significantly.
Russia, the fourth largest epidemic region in the world, recorded an additional 25,345 nCoV infections and 589 deaths within 24 hours, bringing the total to 2,347.401 and 41,053, respectively.
However, Russian Prime Minister Mikhail Mishustin said the pandemic is still quite serious in many regions of the country, most worrying is Kaliningrad and St Peterburg.
Putin ordered yesterday to launch the Sputnik V vaccine on a large scale from next week.
Iran, one of the Middle East's largest epidemic zones, reported 48,990 deaths, an increase of 362, of a total of 989,572 cases, an increase of 13,621.
Iran's Deputy Health Minister Alireza Raisi said the public's compliance with anti-epidemic measures increased to 90%.
After a period of stabilization, Korea is facing the third wave of Covid-19 as new infections continue to increase daily.
South Korean officials said on November 29 that Prime Minister Chung Sye-kyun would discuss with health officials applying tighter social distancing measures to stop Covid-19.
In Southeast Asia, Indonesia is the region's largest outbreak with 549,508 cases, an increase of 5,533, of which 17,199 people died, an increase of 118.
Indonesian President Joko Widodo in mid-November announced that the country intends to mass vaccinate health workers and other frontline workers from December to curb the epidemic and aid economic recovery.
The Philippines reported 434,357 cases and 8,436 deaths, an increase of 1,438 and 18 cases respectively, making it the second largest epidemic area in the region.
The Philippine government had previously negotiated with a number of potential Covid-19 vaccine manufacturers, from the US, Russia and China.
WHO on December 2 recommends that the public wear non-medical masks in the home, such as in stores, co-working places, schools, if the space is not well ventilated, regardless of whether they can maintain a distance.
WHO also recommends that the public wear a mask outdoors when it is not possible to maintain a distance of at least one meter from each other.
Updated: 7:26, 3/12 | Source: WorldOMeters