North Korea showed that it was determined to pursue nuclear weapons, making countering Pyongyang really a difficult problem for the Biden administration.
In a speech last week at the 8th Labor Party congress, North Korean leader Kim Jong-un vowed to expand the national nuclear arsenal.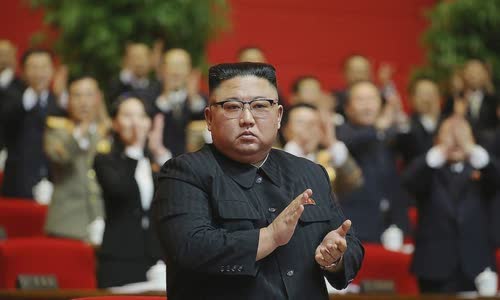 The advanced weapons that the North Korean leader raised shows that he is determined to maintain the position of the country's nuclear power, while setting a test with the upcoming administration of US President-elect Joe Biden.
"Kim wants to show that North Korea will not denuclearize under any conditions," said Dr Malcolm Davis, senior analyst at the Australian Institute of Strategic Policy.
According to Davis, the comments Kim Jong-un made at the congress were part of North Korea's ongoing campaign to show off nuclear power.
"Kim's statements are certainly intended to emphasize to the upcoming US administration that if they do not act quickly, North Korea will develop its weapons capabilities in a way that is detrimental to the interests of both the US and South Korea.
North Korean leader Kim Jong-un and US President Donald Trump have held two summits since 2018, but they have not been able to reach any agreement regarding Pyongyang's nuclear weapons program.
The question now is whether Joe Biden can do better than his predecessor.
"I think the president-elect should look straight ahead and make as soon as possible the view on what his administration is looking for in potential talks with North Korea," said Panda.
In a speech to thousands of delegates attending the Korean Workers Party congress, Kim described the US as "the greatest enemy" but added that he "did not rule out diplomacy".
Previous summits have failed, but they are still honored at the Korean Workers' party congress as "an event of great significance in world political history".
But according to Duyeon Kim, an expert at the Center for New American Security, Washington must act first and all deals come with a price tag.
"The price Kim Jong-un is placing on the US is to end joint exercises with South Korea, lift sanctions and refrain from making human rights criticism before negotiations can take place."
"Even if talks were resumed, the price Kim offered would be too high for any deal because he was proposing Cold War-style arms control negotiations, where each side would
No one on the Korean peninsula can forget the "fire and wrath" threats from President Trump in 2017, after Pyongyang had three long-range missile tests.
With the latest speech, Kim Jong-un is testing and waiting to see how he will receive a response from the US side.
North Korea launched its Hwasong 15 missile in late 2017, claiming it is capable of carrying a nuclear warhead and targeting any location on US territory.
Analysts also believe that North Korea still has a long way to go to realize its ambition of owning a nuclear-powered submarine.
However, North Korea "has shown remarkable resilience in the past," said Panda.
"Even if Kim can't fulfill his entire agenda, we shouldn't bet on his will to get ahead and start experimenting, moving towards building some weapon systems.