North Korea closes its borders, cutting off almost all trade with China, the country's economic lifeblood, to stop Covid-19.
The value of Chinese merchandise exports to North Korea in October was $ 253,000, down 99% from September to October, according to Chinese customs data.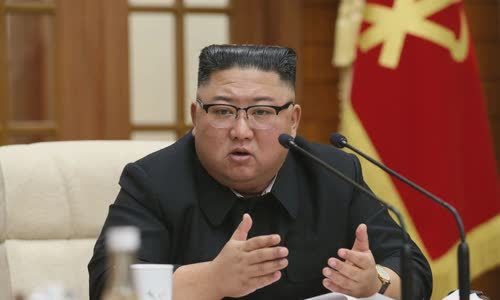 China is North Korea's largest trading partner and also the economic lifeblood of this country, because North Korea basically doesn't import goods from elsewhere.
New customs data, if accurate, show that North Korean leader Kim Jong-un seems willing to turn his back on, even cut off trade with China, to prevent Covid-19 from entering North Korea, even
North Korea has not openly acknowledged the trade decline or the reasons behind it, but the pandemic is the most plausible explanation.
North Korea did not confirm this information.
North Korean state media reported on November 29 that the authorities were enacting new and stricter anti-epidemic measures across the country, including increasing the number of checkpoints at border gates and tightening regulations to sail at sea.
The fact that Pyongyang's decision to reduce the size of its imports from China also affects trade in another direction.
Chinese hair factories often hire unskilled Korean labor, bring the raw materials there, and pay Korean companies to have workers complete the product.
North Korea was one of the first countries in the world to close their borders when news of Covid-19 broke out in Wuhan, China.
Experts believe that Pyongyang reacts cautiously because Mr Kim understands how much trouble it will be if a pandemic hit has overloaded some of the world's best health systems.
North Korea's outdated medical infrastructure can hardly handle the task of treating a large number of patients infected with the virus that the global medical community has yet to understand.
The country's defectors and volunteers in North Korea say North Korea's hospitals and medical facilities are often in ruins, lacking equipment and medicine.
Pyongyang has not confirmed any Covid-19 case, but many questions arise about how an infectious disease infects more than 62.6 million people worldwide and more than 1.4 million deaths.
Evans Revere, a former US assistant secretary of state for East Asia and the Pacific, believes the Kim Jong-un administration's latest moves show "a serious capital situation and a pandemic has made it worse".
Revere said the situation in North Korea seems to be particularly serious because of the combination of factors that have worsened the pandemic, such as severe weather, shortages of crop production, the impact of international sanctions
"The fact that we get so many reports of a massive blockade with repression, even execution, suggests something important is happening. And it doesn't bode well for the economy.
"This is a rather serious situation for the North Korean leader. This also explains the tranquility we see in North Korea after the US presidential election. They are most likely focused on the domestic situation.
North Korea has yet to comment on President-elect Joe Biden.