The police are now heavily mobilized in Paris, France, when the "yellow shirt" protest movement returns to the capital after a long period of quiet because of Covid-19.
Hundreds of protesters gathered in two large squares in Paris to march.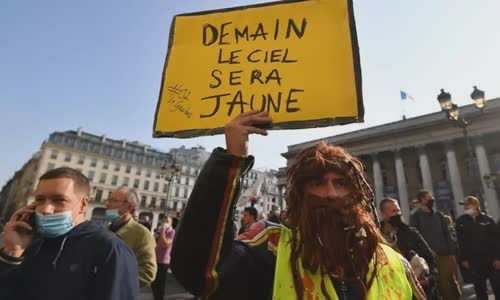 French officials have banned protests in the central area, including the Champs-Elysees, which has witnessed a series of serious riots when the "yellow shirt" protesting movement was at its peak recently.
The protest movement, named after the yellow protective shirt that the French must carry in their car, broke out in mid-November 2018.
The protests returned as France was struggling to cope with a second wave of Covid-19 infection.
French Prime Minister Jean Castex yesterday announced plans to speed up testing, while applying stricter prevention measures in some cities.
The police urged residents to comply with sanitary measures when participating in the demonstrations in the capital Paris, one of the cities most affected by Covid-19, where masks are mandatory on the streets and in