Democratic vice-presidential candidate Kamala Harris wears sneakers that was one of the highlights on the White House track last week.
The video of Kamala Harris, deputy general of Democratic presidential candidate Joe Biden, strides off a plane in Wisconsin, wearing jeans and a pair of black sneakers that captivates social media in America with compliments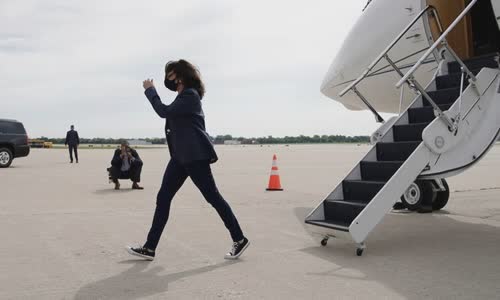 Harris's youthful, casual fashion style is said to respond harshly to the stereotypes that tend to discriminate against the attire of American female politicians.
Biden's campaign quickly took the opportunity, launching a new t-shirt featuring his trademarked pilot sunglasses and a pair of Converse sneakers.
In New Hampshire, a woman on September 8 went to a preliminary polling place in the town of Exeter, Rockingham County, wearing a T-shirt that read "McCain Hero, Trump Zero" (McCain is a hero, Trump number 0
However, she was not allowed to enter the polling station on the grounds of violating the neutrality rules when performing her civic service.
Jason Miller, President Trump's campaign adviser, announced last week that "your air conditioner will not be safe in America under the Biden administration".
The statement was made in response to a tweet from the mayor of Los Angeles, asking residents to set their air-conditioners at 25.5 degrees Celsius, in order to save energy.
The offensive content and fascist symbols interrupted a remote hearing to gauge the credibility of Georgia's voting machines when the Zoom session was attacked by hackers.