Thousands of Thais continued to gather for Tuesday's protests in areas across the capital, Bangkok, despite the ban.
Free Youth, one of the organizers of the protest movement in Thailand, has urged people to return to the streets this afternoon.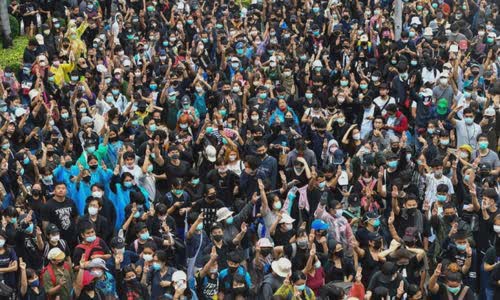 An hour before the protests began, scheduled for 16:00, the group announced three different venues.
In the district of Lat Phrao, north of Bangkok, hundreds of people wearing helmets and gas masks poured into the streets together.
Meanwhile, in Udomsuk, the protest caused traffic congestion.
Prime Minister Prayut Chan-O-Cha on October 16 extended an emergency decree prohibiting gathering of more than four people for an additional month.
Protesters accused Prime Minister Prayuth, who came to power after the 2014 military coup, manipulating last year's election to stay in power.
The crowd also raised a number of other requests, such as replacing the current constitution drafted by the military government or reforming the monarchy, which allegedly helped the military expand its political influence in many ways.
The protests took place largely in peace.
Thailand's King Maha Vajiralongkorn on October 16 did not directly mention the recent protests, but sent his message to the people to "love the country and love the monarchy".