Eduardo Bolsonaro, son of the President of Brazil, said that Covid-19 was a Chinese fault, causing Beijing to react harshly.
"It was a Chinese fault," Eduardo wrote on March 18, citing a Twitter thread saying "the global Covid-19 pandemic had a culprit in China". Eduardo, 35, is the third son of President Jair Bolsonaro, and an influential lawyer, politician in Brazil.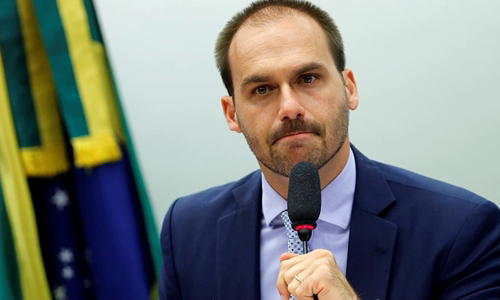 Eduardo's tweet immediately met the harsh reaction of Chinese diplomats. Chinese Ambassador to Brazil Yang Wanming asked Eduardo to immediately remove the status line and apologize for "excessive insult". The Chinese Embassy in Brazil said Eduardo had been infected with a "mental virus" during a recent trip to the United States.
"His words are very irresponsible," wrote the Twitter account of the Chinese embassy in Brasilia. "Unfortunately, he is a man who lacks both international vision and common sense, ignorant of both China and the world. We advise him not to rush to become a speaker for the US in Brazil, he will fall on his face ".
Brazilian media also reported that Ambassador Yang quoted a tweet that read, "The Bolsonaro family is the country's poison."
Controversy erupted amid repeated US and Chinese protests over the source of Covid-19. After US Secretary of State Mike Pompeo called nCoV the "Wuhan virus", Chinese Foreign Ministry spokesman Zhao Lian Kien angrily accused the Chinese military of bringing the disease to the city.
Speaking at a White House press conference on March 18, US President Donald Trump was determined to defend his "Chinese virus", despite criticism that the term was racist, anti-Chinese. Quoc.
"Absolutely not racist. This virus comes from China and that is the reason," Trump said. Chinese Foreign Ministry spokeswoman Geng Sheng had previously called for "the US to stop pointing to China" and should focus on combating the epidemic, playing a constructive role in international cooperation on health security.
Covid-19 appeared in 182 countries and territories after the onset in Wuhan, China in December 2019, leaving 246,000 infected and more than 10,000 dead. Brazil has so far recorded 647 cases and 7 deaths.