The White House Medical Unit, which is likened to a miniature emergency care center, is where Trump continues to treat Covid-19 after discharge.
President Donald Trump on October 5 evening left the Walter Reed National Military Medical Center in Maryland after four days of Covid-19 treatment and flew back to the White House.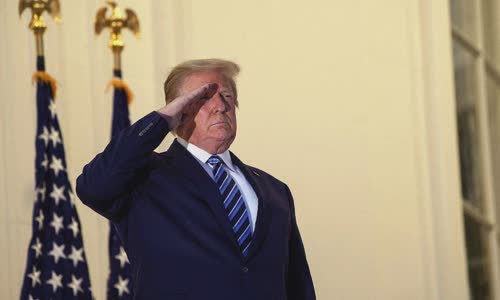 "The president is returning to the White House Medical Unit facility where staff are on duty 24/7. The extra day the patient is unnecessarily in hospital is to add to their risk,"
The White House Medical Unit, headed by Mr. Conley, is a team full of doctors, nurses, and medical assistants, according to the US military.
Not only do they have their own clinic, basic medicines and first aid equipment, but doctors can also perform emergency surgery here.
"It's like a miniature emergency care center," said Dr. E. Connie Mariano, who served at the White House from 1993 to 2001.
Conley, a chiropractor and former commander of the US Navy, has been President Trump's doctor and has headed the White House Medical Unit since 2018, according to National Public Radio.
Conley said Covid-19 patients can stop spreading the virus within 5 days of being diagnosed and doctors will closely monitor Trump's situation to determine when he is no longer infected.
The White House has arranged for Trump to work in a temporary office located in the basement, adjacent to the medical room for convenient health care and timely assistance in case of need.
Dr Conley admits they are "cautiously optimistic" by not excluding the possibility that Trump's health situation may turn bad, due to the complexity of Covid-19.
Treatment for President Trump currently includes an injection of the antiviral drug Remdesivir, using monoclonal antibodies, a method still in clinical trials, and dexamethasone.
In the latest update on October 6, Dr. Conley said Trump continued to "very well".
"The survival markers and physical examination remained stable, with an oxygen saturation of 95-97%," added Conley.