ASEAN Foreign Ministers called on Myanmar authorities to end violence and execute agreements agreed in April.
Foreign Minister Indonesia Retno Marsudi today called for quick and transparent implementation of the 5-point agreement passed by ASEAN in April. The statement was launched on the sidelines of the ASEAN - China senior officials, in the main context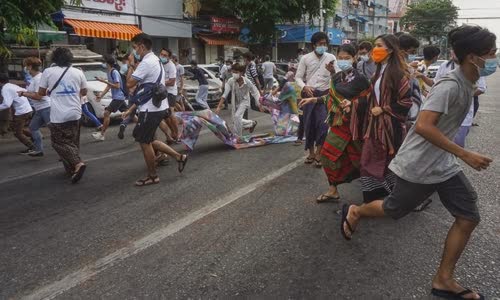 Myanmar protesters on Yangon Street on June 5.
Second minister of Brunei Erywan Yusof, ASEAN President of ASEAN, and ASEAN Secretary-General Lim Jock Hoi on June 4 meeting with Myanmar Min Aung Hlaing General in the capital Naypyidaw.
ASEAN leaders in late April claimed to reach consensus consisting of 5 points to end violence in Myanmar, promoting dialogue, providing aid, appointing a special envoy, sending a delegation since this envoy leads
However, no one has been appointed as a special envoy with ASEAN internal consensus or the most suitable group of people with this position, as well as the task and the term of the term of the envoy.
General Min Aung Hlaing also attended a meeting with ASEAN leaders in April. However, he said in the interview on television later that Myanmar was not ready to apply ASEAN's plan.
Myanmar fell into crisis from the beginning of February, after the military arrested Ms. Suu Kyi and overthrow the civilian government, due to accusation of election fraud in November 2020 not resolved.