G7 will expand global Covid-19 vaccine production to provide at least one billion dose for the world through shared and sponsorship programs.
At the G7 Summit, the world leaders are expected to announce that they will provide at least one billion dose of Vaccine Covid-19 to the world and set a plan to expand the vaccine production to achieve that goal in 2023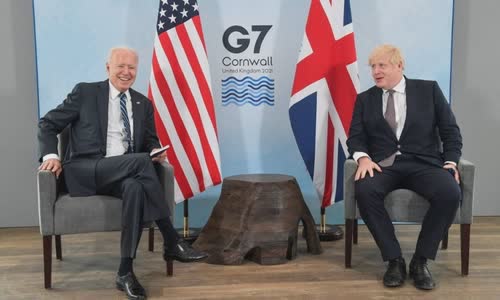 The announcement was given after US President Joe Biden announced it would donate 500 million doses of Vaccine Covid-19 for 92 poor countries and have an average income.
He, where the G7 summit in Cornwall, added that they will sponsor at least 100 million excess vaccine doses next year, including 5 million doses starting in the coming weeks.
Committed to be given after increasing calls for rich countries to strengthen efforts to share Covid-19 injections with less developed countries.
England, the country ordered more than 400 million doses, was faced with criticism because he had not started sharing with poorer countries.
Thanks to the success of his vaccine program, we can share some excess doses with those needed.
Meanwhile, European Union members (EU) agreed to finance at least 100 million doses at the end of 2021, with France and Germany each committed to providing 30 million doses.
American President Joe Biden (left) and Prime Minister Boris Johnson met in bilateral in Carbis Bay, Cornwal, Southwest England, before the G7 summit.
The world recorded 175,502,882 cases of NCOV and 3,785,748 deaths, up 329,746 and 8,939, while 157,558,602 people recovered, according to real-time Worldometers statistics.
America, the world's largest translation area, reported 34,275,075 cases and 613,806 deaths caused by NCOV, an increase of 10,690 cases and 314 deaths compared to the previous day.
The US also faced criticism because of a large amount of Covid-19 vaccines.
The White House said the vaccine will begin to be moved abroad in August. Regarding the opinions that are competing for diplomatic vaccines with Russia and China, Washington describes his initiative to return to multilateral actions
India is the world's second largest translation area with 29,273,338 cases and 363,097 deaths, up from the previous day 91,266 and 3,402 cases.
Yesterday yesterday reported a record of more than 6,000 deaths due to Covid-19, higher than any country from the world since the pandemic outbreaks, after Bihar modified the dead data.
Indian experts warned this country could accommodate the Tuesday Covid-19 wave later this year with a risk of more impact on children.
Brazil is the world's third largest translation area with 17,210,969 cases and 482,019 deaths, up 85,612 and 2,228 respectively.
Brazilian Supreme Court on June 10 ruling this country can organize South American Football Championship Copa America, clearing the way for the football tournament after three more days, despite the call to cancel
Extreme President Jair Bolsonaro, who regularly considered a pandemic lightly, sent congratulations after the court's ruling.
It is impossible to describe the madness when trying to organize such a caliber event here, the infectious disease expert Jose David Urbaez said.
In Europe, some limitations have been relaxing before Euro Euro football platform starting June 11.
However Hans Kluge, the European Regional Director of WHO, said he was concerned with complacency.
The vaccination range is still enough to protect the area from new outbreaks, Kluge told reporters, and warned not to repeat the wrong summer last summer by early loosening term measures
South Africa entered the Tuesday Covid-19 waves when Africa's most affected nation recorded 9,149 new cases, bringing the total number of cases to 1,722,086.
About 90% of African countries will miss the vaccination target for at least 10% of the population in September when the third outbreak has begun in the continent.
Africa has recorded 5 million cases of infections, of which the southern continent is most affected, accounting for 37% of total cases.
*Continue to update