The Japanese Meteorological Agency warns that Nanmadol is very dangerous towards Kyushu Island, calling for people to evacuate.
Nanmadol storm on September 17 moved through the area near Minami Dailo Island, about 400 km east of Okinawa Island, the Japanese meteorological agency (JMA) announced.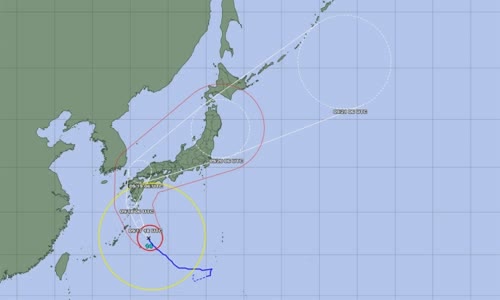 Nanmadol storm moves at a speed of 20 km/h in the Northwest direction, the wind speed is near the center of the storm up to 198 km/h, the highest wind speed of 270 km/h.
Nanmadol's direction forecast announced on September 17.
Ryuta Kurora, head of JMA forecasting department, warned that the risk of high waves, high tide and record rain.
Mr. Kurora also said JMA could issue the highest warning to Kagoshima province tonight, and said strong winds could cause some houses to collapse, as well as the risk of floods and landslides.
Japan is in the rainy season and suffers about 20 storms each year.
Experts say climate change increases the severity of storms, as well as making extreme weather phenomena such as thermal waves, drought or flash floods more frequent and intense.
South Korea is planning to deal in the context of Hinnamnor super typhoon, the most powerful history of this country, preparing to land.
Moon tropical storms landed in the North of the Philippines, injuring at least two people and schools and offices to close.