Representatives of Vietnam and the US attending a 20-year annumal celebration of helicopter accidents, causing 16 people to die, when they participated in the search for Americans missing during the war.
Vietnamese agency seeking missing people (VNOSMP) this morning held a ceremony in Quang Binh with the attendance of Mr. Le Chi Dung, Director of America, Ministry of Foreign Affairs, VNOSMP Director, representatives of relatives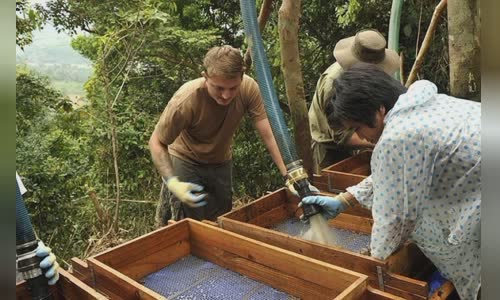 American and Vietnamese soldiers participated in Mia activities in Binh Dinh in March 2012.
The US has Mr. Thomas Stevenson, US defense attaché in Vietnam, Leadership and Mia Office (missing soldiers in the war) in Hanoi (Det2) and representatives of the US Embassy in Hanoi
Mr. Le Chi Dung highlighted the sacrifice of Vietnamese martyrs to the humanitarian mission between the Government of Vietnam and the United States, said it deeply shows the tradition of compassionate and content of the Vietnamese people, contributing
Defense attaché Thomas Stevenson expressed its honor of Vietnamese martyrs and US specialists, shared loss of relatives of Vietnamese martyrs' families.
On April 7, 2001, helicopters of the Northern Service Flying Company bringing two Vietnamese officials and 7 US experts participating in Mia activities crashed into a mountainous area in Bo Trach district, Quang Binh province.