Cyprus government has ignoredly monitored and illegally granted thousands of passports in the Golden Passport Program, the Investigation Committee said.
Myron Nikolatos, former Cyprus Supreme Court Judge, who is in charge of the Investigation Committee, on June 7, said those who violated the passport level regulations need to be criminal and political responsibility.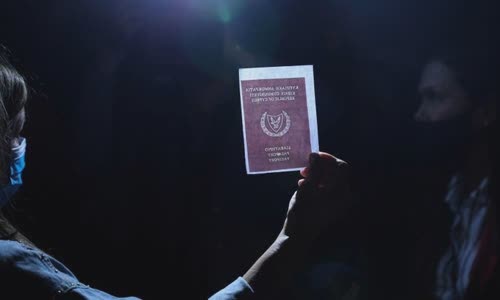 The Commission of Nikolatos was founded by Cyprus General Prosecutor last September, to investigate the so-called a golden passport for foreign investors from 2007 to August 2020, before the program was destroyed in November
It is clear that CYPRUS investment program works from 2007 to 2020 with many vulnerabilities and shortcomings, lack of legal frameworks and no regulatory framework, Nikolatos said.
A person holding a passport photo in anti-corruption protests outside the Filoxenia Convention Center, which is ongoing Cyprus National Assembly meeting, in Nicosia, October 14, 2020.
The survey report conclusions 53% of the 6,779 passports are illegally, due to full evaluation or shortcomings in the background check.
At the end of June 7, the Government spokesman Kyriacos Koushous said the Cyprus government committed to punish the responsible people.
The investigation report has closed, or nearly closed, a stressful political cycle and a long-term hazardous environment, mainly aimed at President Nicos Anastasiades and his government, Koushous said.
The Mediterranean island canceled the golden passport program after the news agency Al Jazeera broadcast a documentary showing that reporters play a person who helps a Chinese entrepreneur to amend the information to apply for Cyprus passport, no matter what
The image was secretly filmed showed Demetris Syllouris, former National Assembly Chairman of Cyprus, with an opposing MP.
Al Jazeera said dozens of people applying for Cyprus Golden Passport are in the area being criminally investigated, subject to international sanctions, even executing prison sentences.
Nicosia has long been pressured by Brussels to reform the golden passport program because of concerns that the program risks to help organized criminal gangs entering the European Union.
And Cyprus, a member of the block, argues that they need to attract rich to invest in improving the economy after the crisis in 2013. Nicosia grants passport for each foreign investor