Russian President Putin said he had signed an order to adjust the mobilization of troops, which expanded people in the army.
Russian President Vladimir Putin today spoke at the meeting with the teachers, broadcast live on television, that he signed an order to postpone the army with more people going to school, including students who are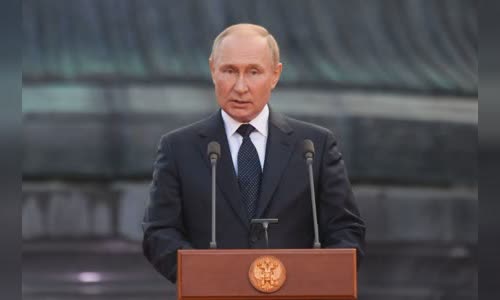 Putin added that the situation in new territories will be stable, mentioning areas in the South and East Ukraine that Russia has announced the merger is Donetsk, Lugansk, Kherson and Zaporizhzhia.
President Putin spoke in the city of Veliky Novgorod, northwest of Russia on September 21.
Russian President Putin on September 21 announced the order to encourage and mobilize 300,000 reserve troops to the Ukraine battlefield, mostly the one who served in the army.
Russia previously announced that people were exempted from encouragement including students at educational institutions and state research organizations, technology personnel, banks, journalists, defense industry staff, people.
Power spokesman Kremlin Dmitry Peskov on September 26 admitted a number of mistakes in the process of commanding the encouragement.
On October 3, Russia returned thousands of people who were called to enlist in the Eastern Province of Khabarovsk because they did not qualify for the army.
In the early days of deploying the command to encourage the Russian troops to exist many shortcomings, causing officials of the country to warn about the risk of social insecurity.
Arriving at the city of Yerevan, the capital of Armenia with a small bag of luggage, Dmitri chose to leave his wife and children in the back.