The Secretary-General of the United Nations Antonio Guterres was approved by the Security Council for the second term, when no other candidates were nominated.
Sven Jurgenson, Ambassador Estonia, the country is holding the rotating president of the United Nations Security Council, today said that after a closed session, the General Meeting of the Council voted to approve the Secretary-General Antonio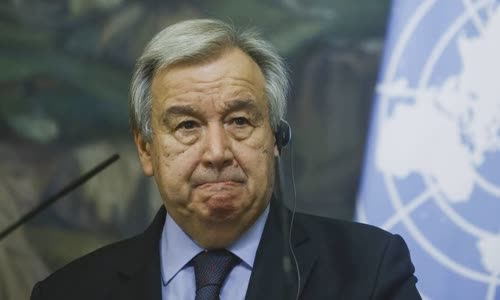 The United Nations General Assembly will soon approve this decision, the event is said to be only formal.
Guuterres, former Portugal's 72-year-old Prime Minister served as the Secretary-General of the United Nations from January 1, 2017 and will end the first term on December 31, 2021.
About 10 others also target this position, but they did not become an official candidate because there was no United Nations Member State nominating them.
Secretary General of the United Nations Antonio Guterres in a press conference in Moskva, Russia, on May 12.
During the first term, Guuterres focused on limiting the potential losses from unilateral nationalism, foreign policy and the United States above all from former US President Donald Trump.
The goal of solving wars or conflicts in Syria, Yemen and Mali are still too far away.
Last month, Guuterres said key factors in his work as the United Nations Secretary-General depends on caution.
Under continuous pressure from large powers as well as small countries, Guuterres tried not to alienate any of the 5 permanent members of the Security Council, which was said to help him continue.