Prime Minister Scholz will answer the question to the Hamburg Parliament committee related to the tax fraud, causing the German government to damage billions of dollars.
German Chancellor Olaf Scholz on August 19 will attend the second hearing before the Hamburg Parliamentary Committee, the unit responsible for investigating the scandal of wrong tax refund of local officials.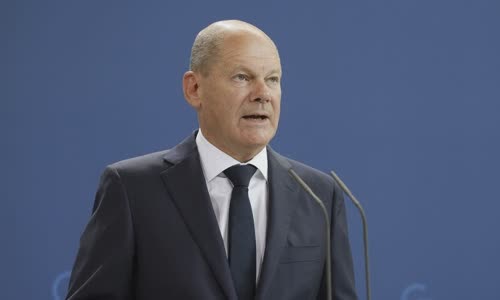 Steffen Hebestreit, a spokesman for Scholz, said on August 17, said that the German Prime Minister would answer all questions from the Hamburg Parliament Committee and did not hide anything.
When asked about the tax fraud during the press conference last week, Mr. Scholz declared the hearing and records that only brought the only result of not detecting any political effects in the incident.
German Prime Minister Olaf Scholz spoke at a press conference on August 18 in Berlin.
The Hamburg Parliamentary Commission is investigating the reason for the 2016 state financial agencies not trying to reclaim 47 million euros (48 million USD) of tax refunds from private bank M. M. Warburg due to fraudulent transactions.
The tax fraud was exposed in 2017, involving many people trading the company's stock on the day of receiving dividends to request tax refunds for the only payment.
Dozens of prosecuted people involved in the tax fraud in Germany, including bankers, securities traders, lawyers and financial consultants.
Mr. Scholz undertook the position of Mayor of Hamburg for the period of 2011-2018, then became Minister of Finance and Deputy Prime Minister of Germany under Merkel in 2018-2021.
The German media reported that the investigators checked the email used by Mr. Scholz during the time of holding the mayor of Hamburg.
There are many rumors that the decision to stop claiming tax frauds from Warburg was made after Scholz talked to Christian Olearius, when it was the bank director.
According to the German media, the investigators collected the email of Jeanette Schwamberger, former Chief of Mr. Scholz's office, and could publish these evidence.
MP Matthias Hauer, under the opposition of the Christian Democratic Union (CDU), said that German Prime Minister Scholz and his subordinates seek to provide limited information about a number of meetings or phone exchanges
Meanwhile, Johannes Kahrs, a former Scholz Social Democratic Senator (SPD), is also investigated by the Hamburg State Parliament Committee.
The German energy management agency warned that the country was almost certainly not reaching the target of gas reserves with supply from Russia.
Former Prime Minister Schroeder sued the Duc Hospital for being deprived of the right to use the state -funded office.