President Duterte is committed to dealing with a controversial peace related to hundreds of Chinese vessels anchoring at the reef in the South China Sea.
"We will continue to solve these problems through diplomatic channels and peaceful measures," said Harry Roque spokesman today to read the Statement of President Philippines Rodrigo Duterte, referring to the crop of medium ships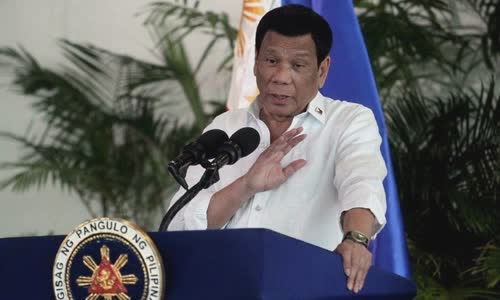 Duterte's speeches "gentle voice" is much more than the previous harsh statements of national defense and diplomatic officials.
The Philippine President's legal advisor also warned the "unwanted hostile actions", while the country's Ministry of Defense deployed warships and military aircraft monitoring the Chinese fleet.
Philippine President Rodrigo Duterte spoke at Davao International Airport, Davao City, southern Philippines, September 2018.
More than 200 Chinese vessels anchored at the reef near the existent island of the Truong Sa archipelago of Vietnam from March 7, turning on the lights all night without catching even though the weather is favorable.
In the announcement today, Duterte said disagreements in the South China Sea will not hinder friendly relations and CoVID-19 pandemic cooperation, including vaccines and economic recovery.
The Chinese embassy in Manila has not responded to the request today.
Observers pointing out that Duterte has ever shown its position on Beijing to change economic benefits, harming allied relations with Washington, whether many Beijing's loans and investment promises
This is a modal window.
Beginning of Dialog Window.
End of Dialog Window.
Three weeks present of more than 200 Chinese vessels on the South China Sea.
During the press conference on March 25, the Foreign Ministry spokesman Le Thi Thu Hang affirmed the operation of Chinese vessels within the territorial waters of the existent existence of the Spratly Islands of Vietnam that violated sovereignty
"Vietnam requires China to terminate violations, respect Vietnam's sovereignty, goodwill to implement the United Nations Convention on the Law of the Sea, strictly comply with the DOC, especially the obligation to restrain, not complex
The Ministry of Foreign Affairs said that Vietnam's maritime academic forces are performing obligations stipulated in Vietnamese laws and international laws.