The Indian Prime Minister announced that the country will export 8 million doses of Vaccine Covid-19 to Asia next month, as agreed with the quartet.
In the meeting with the quartet at the White House on September 24, Indian Prime Minister Narendra Modi told the remaining three member states including the US, Japan and Australia that New Delhi will provide 8 million doses of Johnson & Johnson vaccine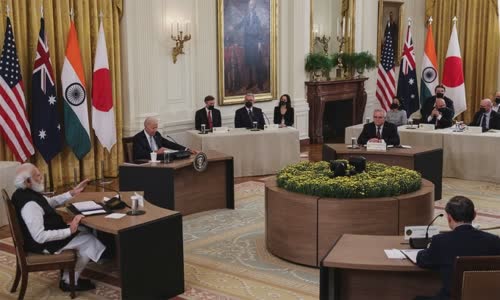 This commitment is consistent with our Vaccine Export Decision, Indian Foreign Minister Harsh Vardhan Shringla said as informing Prime Minister Modi's decision.
This vaccine number is in the agreement to provide a billion vaccine doses for Asia until the end of 2022 that the quartet group is in March. However, the plan is stalled after India, the largest vaccine producer
India said it will prioritize the Covax program and neighboring countries when resuming vaccine export activities.
The decision to provide 8 million doses of vaccines for Asia was launched after the first direct summit of the leaders of the quartet members in Washington.
Leaders of Fourth member countries in the White House meeting on September 24.
In the general statement after the talks of the quartet group, US President Joe Biden, Prime Minister Australia Scott Morrison, Prime Minister Suga and Prime Minister Modi affirmed support for rule of rule, freedom of maritime and aviation, resolving harmony
Leaders of the Quartet group did not directly mention China in the joint statement after the meeting, experts saying that this is the most important issue with them.
Together, we are re-committed to promoting free order, openness, based on rules, originating from international law and not to force, to strengthen security and prosperity in Indian Ocean - Thai Binh
Quartet leaders also called on North Korea to participate in diplomatic efforts to address the issue of relevant nuclear weapons and ballistic missiles, which Pyongyang refused if international sanctions aimed at
The quartet group announced a number of new agreements, including the Treaty to enhance the security chain security, anti-illegal collection and raise awareness about the maritime area.
The summit of the Leaders of the Fourth Group took over a week after the US, England and Australia announced the Security Treaty of the Aukus.
A Japanese Government spokesman said the Prime Minister Suga told the quartet team members that the East Asian Nation considers Aukus partnerships playing an important role in peace and stability of the Indian Ocean region
In the press conference on September 24, the Chinese Ministry of Foreign Affairs spokesman was successfully criticized by the quartet as a closed group aimed at other countries, going against the trend of the era and aspirations of countries in the region