Sharing Ambassador Kritenbink has more than three years of "great" when working in Vietnam, but unfortunately, it has not been visited every country before the end of the term.
"What I'm interested in taking care of Ambassador role in one of America's most important partners. I like to feel along with a close cooperative colleagues with Vietnamese partners to build concerns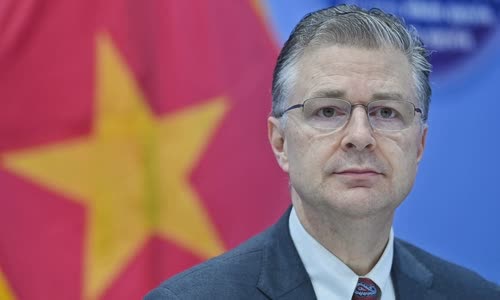 Ambassador Kritenbrink was nominated by the former President Donald Trump as an American ambassador in Vietnam in July 2017 and began the term in November.
However, the US ambassador said those achievements were not only the effort of him, but it was the effort of nearly 1,000 "great colleagues" in the US delegation in Vietnam.
"We have more than 700 Vietnamese employees, very wonderful people, with more than 200 US employees. I am very pleased to have such a great team leader," he said.
American Ambassador in Vietnam Daniel Kritenbrink in the press conference in Hanoi on April 7.
The US veteran diplomat also appreciated and appreciated with the support and cooperation of Vietnamese government leaders for three years he takes on the role of the US ambassador here.
"I often tell friends in the US, if I use 3 words to describe the leader of Vietnam, it will be strategic, capable and very practical," said Kritenbrink.
The US Ambassador added that he loved the beauty of Vietnam and perhaps never forget trips or tourism to Sa Pa, Ha Giang, Hoi An, Can Tho and many other locations.
"A US friend asked me what my impression of Vietnam was. I answered that there were two impressions. One is the kindness and generosity of the Vietnamese people. Two are happiness and peanuts
The US diplomat added that he loved Vietnamese food and did not know what to do if they couldn't eat pho, vermicelli, fish rolls whenever wanted.
"The country and Vietnamese people will always have a special position in my heart. I will never forget you," the US ambassador said.
When asked about what he felt regret about the time in Vietnam, Ambassador Kritenbrink shared a bit of regret because he could not visit every region in Vietnam.