The protester rides 7 elephants involved in enrichment of the coup in ontyaw village today.
The rulers hold flags and banners protesting the military government, commanding seven elephants to walk along the road.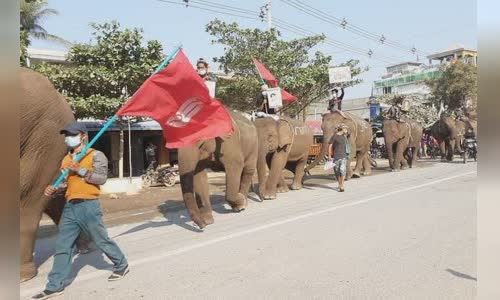 This is a modal window.
Beginning of dialog window.
End of Dialog Window.
The march took place in the context of the "Foreign Minister" appointed by the Myanmar army Wunna Maung Lwin to Thailand today meeting with Indonesian Foreign Minister Retno Marsudi and Thai Foreign Minister Don Pramudwinai.
Myanmar this week continued to witness major protests and a total strike against the coup, asking for release of Aung San Suu Kyi State Advisor, despite the warning from the government that the confrontation had the confrontation
The military has not given a time frame for the new election, but they imposed an emergency that lasted a year, so it was possible to vote afterwards.
Today, hundreds of protesters gathered at the Indonesian Embassy in Yangon, bringing the banner to call the Indonesian government to negotiate with the Myanmar military government, affirming that Aung San Suu Kyi is their foreign minister.
Dozens of protesters also gathered outside the Thai Embassy in Yangon with signs: "Respect our ballot" and "We voted for NLD".