The world has recorded more than 29 million infected people, nearly 928,000 people died from nCoV, the epidemic in some countries is at risk of outbreak again.
213 countries and regions recorded 29,155,038 cases and 927,709 deaths caused by nCoV, an increase of 230,398 and 3,788 cases after 24 hours, while 21,004,632 people recovered, according to the update page.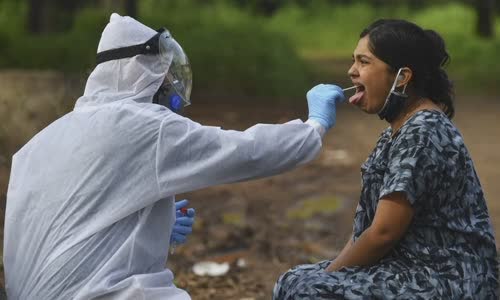 The US, the world's largest epidemic zone, recorded 6,706,522 cases and 198,474 deaths, an increase of 33,986 and 462 cases compared to the day before.
Dr Anthony Fauci, America's leading epidemiologist, expressed concern last week about the Covid-19 situation in the country.
India, the world's second largest epidemic region and Asia's largest, reported an additional 95,215 cases and 1,140 deaths, bringing the total number of people infected and dying from Covid-19 to 4,845,033 and 79,754, respectively.
The government of Prime Minister Narendra Modi expressed optimism when it said that the rate of people infected with nCoV recovering in India was high, at about 75%.
Brazil, the third largest epidemic region in the world, recorded an additional 351 deaths from Covid-19, bringing the total number of deaths to 131,625.
Brazil's Ministry of Health said the number of nCoV infections in the country has recently decreased slightly and hopes to reach an epidemic peak after months of recording an average daily death of more than 1,000 people.
Russia, the world's fourth-largest epidemic region, reported an additional 94 deaths, bringing the total number of deaths to 18,578.
About 40,000 volunteers in the capital Moscow have been vaccinated with Covid-19 called Sputnik V since September 9, and batches of vaccines were also distributed throughout Russia.
South Africa, the world's eighth largest epidemic region and the country most severely affected by the pandemic in Africa, recorded 649,793 cases and 15,447 deaths, up 1,579 and 20 respectively.
Despite the signs of cooling in Covid-19, South Africa's Health Minister Zweli Mkhize warned the country could face a second outbreak like many countries.
France recorded an additional 7,183 cases, bringing the total to 381,094, of which 30,916 people died, an increase of 6 cases.
French Prime Minister Jean Castex said on September 11 that the country would not re-impose a national blockade to curb the epidemic, but take other measures such as speeding up testing for priority cases to reduce waiting times.
Iran reported 23,157 deaths, an increase of 128, the total number of infections was 402,029, an increase of 2,089.
In Southeast Asia, the Philippines is the region's largest epidemic with 261,216 cases and 4,371 deaths, up 3,372 and 79 cases, respectively.
Indonesia, the region's second largest epidemic, recorded 218,382 cases, an increase of 3,636 compared to the previous day, of which 8,723 people died, an increase of 73 cases.
President Joko Widodo said on September 1 that the epidemic in Indonesia is likely to peak this month, and said "very confident" about the ability to access safe and effective vaccines by the end of the year.
The capital Jakarta re-imposed restrictions on 9/9 when cases increased by an average of 1,000 cases per day this month.
Singapore is the region's third largest outbreak with 57,406 infections, an increase of 49, and 27 deaths.
World Health Organization (WHO) Director-General Tedros Adhanom Ghebreyesus last week warned of a lack of solidarity in the global response to Covid-19.
Updated: 8:11, 8/9 | Source: WorldOMeters