Globally, more than 39.9 million people have been infected with nCoV, of which more than 1.1 million people die, Europe has to impose additional restrictions due to the complicated epidemic situation.
214 countries and territories recorded 39,929,571 cases and 1,114,120 deaths from nCoV, an increase of 398,421 and 6,092 cases after 24 hours, while 29,874,151 people recovered, according to the site's statistics.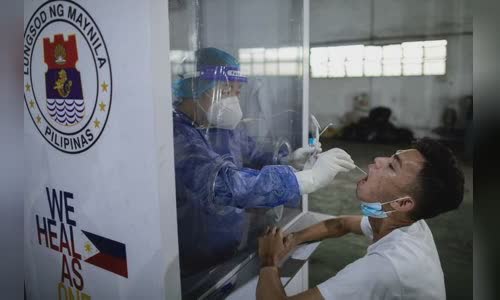 The United States, the world's largest epidemic zone, recorded 8,339,365 cases and 224,258 deaths, an increase of 56,738 and 678 cases from a day earlier.
Experts warned that many states are able to prepare for a new outbreak, especially the alarming trend in the northeastern region of the country.
Some states introduced new epidemic prevention regulations.
India, the world's second-largest epidemic region, reported an additional 62,092 cases and 1,032 deaths, bringing the total number of people infected and dead from Covid-19 to 7,492,727 and 114,064 respectively.
Although the number of infections in India has increased faster than any other country, the Ministry of Health of this country still shows a positive sign that the cure rate has increased by nearly 100% last month.
India began easing anti-nCoV measures nationwide in June, amid a devastating economy and millions of people losing their jobs.
From October 17, India began to select 300 million people who will be vaccinated first, including frontline health workers and sanitation workers, police, and the elderly with background diseases.
Brazil, the third largest epidemic region in the world, recorded an additional 446 deaths from Covid-19, bringing the total number of deaths to 153,675.
Latin America and the Caribbean are the most affected regions in the world in terms of deaths, with Brazil accounting for the majority.
Statistics show that Brazil's nCoV figure is on the decline after soaring over the summer.
Russia recorded an additional 279 deaths, bringing the total number of deaths to 24,002, while the number of infections increased by 14,922, to 1,384,235.
The Kremlin said it is concerned about the increase in cases but stressed the situation under control.
Russia on October 14 licensed the second Covid-19 vaccine, EpiVacCorona, developed by the Vector Institute.
South Africa, the world's 12th largest epidemic region and the country most severely affected by the pandemic in Africa, recorded 702,131 cases and 18,408 deaths, up 1,928 and 38 cases respectively.
The South African government decided to open borders with most countries from October 1, while at the same time loosening the world's top strict restrictions in an effort to revive the economy.
The epidemic was complicated again in European countries.
President Emmanuel Macron issued a curfew in Paris and eight other major cities for six weeks, starting October 17.
He recorded 705,428 cases and 43,579 deaths, an increase of 16,171 and 150 cases, respectively.
British Prime Minister Boris Johnson on October 12 ordered the closure of pubs in Liverpool as part of a new pandemic response strategy.
In London, which has been identified as a "high level of risk", people are not allowed to meet anyone in their home other than family members, friends or family members who help with childcare.
Germany says daily infections in the country reach an all-time high since the start of the pandemic.
When Covid -19 first hit Europe earlier this year, Germany was noted to have taken early and targeted measures to help contain the virus better than many other countries.
The leaders of the German states regularly meet with Chancellor Angela Merkel to agree on the rules and regulations, but in the end each state has the right to decide whether to impose it or not.
Chancellor Merkel urged people to reduce unnecessary travel, limit contact with each other and stay at home as much as possible.
Iran, the Middle East's largest outbreak, reported 30,123 deaths, an increase of 253, while the total number of infections was 526,490, an increase of 4,103.
On October 10, Tehran began to impose fines for people who violate medical guidelines.
In Southeast Asia, Indonesia has overtaken the Philippines, becoming the region's largest epidemic zone.
Jakarta started to impose restrictions to prevent nCoV in early April and then loosen it up in June. However, a few weeks later, the number of new infections in the capital skyrocketed.
The Philippines reported 354,338 cases and 6,603 deaths, an increase of 2,673 and 73 cases, respectively.
Most businesses have been allowed to reopen since Manila ended the blockade on August 19.
Philippine President Duterte said he wants all 113 million people in the country to be vaccinated with Covid-19, but priority will be given to the poor, the police and the military.
WHO's Regional Director for Europe, Hans Kluge on October 15 said it was time to "step up the measures" because the growing case in the continent was "a major concern".
Updated: 6:56, 18/10 | Source: WorldOMeters