Burmese police fired in the air, using grenades to stun to disperse the crowd opposed to an official appointed by the army in Tamwe, Yangon.
"We are really scared," said an anonymous resident, referring to the crackdown by the riot police force on the night of February 25.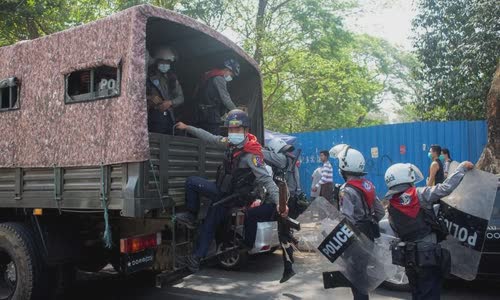 According to Myanmar state media 23 people, including 10 women, will face legal action in connection with yesterday's rally.
The danger of violence has not stopped the wave of protests in Yangon.
"This is extremely important for our future. We want a government that respects its people. My generation will fight the military government to the end," said Nyein Chan Sithu, a protester.
Myanmar has been in crisis since February 1, when the military arrested State Counselor Suu Kyi and senior officials in the civilian government, on the grounds of their November 2020 election fraud.
Over the past three weeks, protests and strikes, which have attracted hundreds of thousands of people, also take place every day across the country.
The United States, Britain and others have called for Suu Kyi's release, and at the same time, impose sanctions against the military government and their business relationships.