A South Korean congressman revealed Jo Song-gil, acting North Korean ambassador to Rome "missing" in 2018, is secretly living in South Korea.
Jo Song-gil, then 48, was acting North Korean ambassador to Rome when he and his wife "went missing" a few days before returning to Pyongyang in November 2018.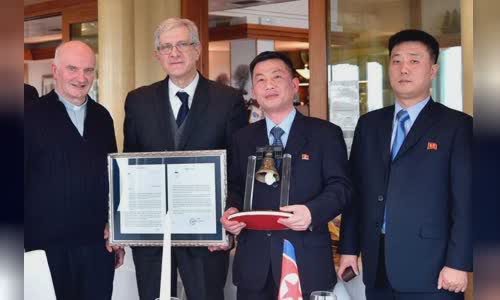 Ha Tae-keung, a member of the Korean opposition party and a member of the National Assembly Intelligence Committee, announced on October 6 on Facebook that Mr. Jo had come to Korea and secretly lived there since July
The information was released by Mr. Ha several hours after JTBC, a Korean cable channel, said Jo had fled to the country.
Revealing about Jo could strain Korea-Korea relations.
The Korean National Intelligence Service stated that Ha "did not confirm" the information.
If the defection is confirmed, Jo will be the highest-ranking official in the Korean government to defect to South Korea after Hwang Jang-yop, former secretary of the ruling Korean Labor Party, defected to Seoul from
The last senior North Korean diplomat who defected to South Korea was Thae Yong-ho, an official in the North Korean embassy in London, who fled with his wife and two sons to Seoul in 2016.
Over the years, some famous Koreans like Hwang or Thae have lived publicly after settling in Korea.
Jo and his wife live with their daughter in Rome, but when they defected, they could not bring their daughter with them.
After Jo disappeared from Italy, Thae's former diplomat defected, wrote an open letter calling for the right of ambassador to flee to Korea.
"His daughter will be subject to a more serious punishment if he chooses to defect to Korea rather than to other countries," Thae told reporters last year.
Thae, now a congressman allied with the main opposition party in South Korea, today released a statement expressing concern that the disclosure of his whereabouts by Korean media would further endanger Jo's defection.
It is not clear why Jo decided to escape.
Jo's disappearance was kept a secret until a Korean newspaper reported last year that he was applying for asylum in the West.
North Korea has yet to speak up after this revelation.
More than 30,000 Koreans have fled to South Korea since the mid-1990s. North Korea often calls them "traitors" or claims to have been kidnapped by the South Korean spy agency.