Japan: A 77-year-old woman in Fukushima Prefecture died after falling off a helicopter because rescuers forgot to fasten their safety gear.
She fell from a rescue helicopter from a height of 40 meters in Iwaki City, Fukushima Prefecture on the morning of October 13. The victim was taken to the emergency hospital but doctors determined she was dead.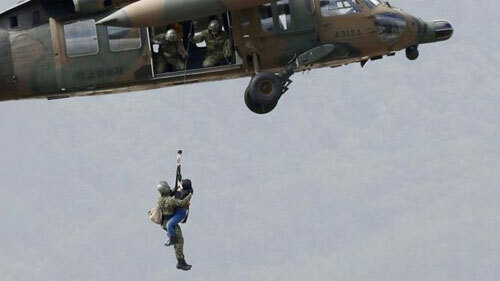 The Tokyo Fire Department sent helicopters and rescue workers to Fukushima and Nagano provinces after the super typhoon Hagibis caused severe flooding in the area. When rescuing people trapped by helicopters, rescuers will fasten safety gear to people and one person is responsible for confirming the completion of this, but the process was not followed in the incident.
Typhoon Hagibis hit Japan on the evening of October 12, causing record rainfall in the past six decades in the country. At least 35 people were dead, 20 were missing and dozens were injured. The storm also left 425,000 households without electricity.
Authorities warned of the risk of landslides in flooded areas, when some victims died from landslides that buried their homes. A 50-year-old man near Tokyo died when strong winds in a typhoon caused his car to capsize, while another person was killed by a car swept away by floodwaters.
About 360 people were stranded after the embankment of the Chikuma River in Nagano Prefecture broke. Rescue efforts also faced difficulties when dozens of rivers in central and northeastern Japan flooded the banks, causing floods.
Japanese Prime Minister Shinzo Abe convened an emergency cabinet meeting and set up a task force to deal with damage from the storm. The official report on the consequences caused by Typhoon Hagibis has not been released because many areas are still flooded.
Last month, Hurricane Faxai devastated 30,000 homes in Chiba Prefecture, eastern Tokyo, and caused widespread blackouts.