The US State Department pledged to spend about $ 153.6 million for cooperation projects in the Mekong region in today's online conference.
Of the $ 153.6 million allocated by the US, $ 55 million is spent on cross-border crime projects in the Mekong region, and $ 1.8 million in support of the Mekong River Commission to increase data sharing.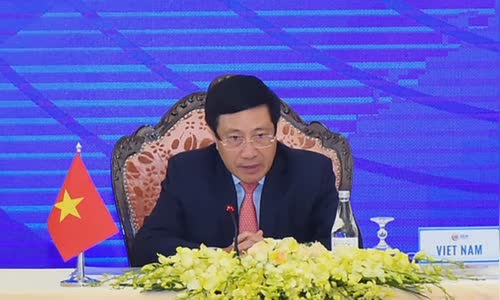 The first Mekong - US Ministerial Meeting was held online on September 11, by Deputy Prime Minister, Foreign Minister Pham Binh Minh and US Standing Deputy Secretary Stephen Biegun.
The conference officially announced the upgrade of cooperation to the Mekong - US Partnership (MUSP) on the basis of the success of the Lower Mekong Initiative (LMI) established in 2009.
The Mekong River countries and the US have cooperated closely in the fields of sustainable water management, environmental protection, disaster response, health, education, and regional connectivity.
Areas MUSP is expected to focus on include economic connectivity, sustainable management of water resources, natural resources and environmental protection, non-traditional security, human resource development.
Deputy Prime Minister Pham Binh Minh emphasized that MUSP can contribute more to the sustainable development of the Mekong sub-region, helping countries in the region narrow the development gap, seize new opportunities and overcome challenges in the context of