The United States, France and Ireland expressed their desire to stabilize and reaffirm the close relationship, while Russia welcomed the news that Truss resigned.
The United States and the United Kingdom are strong allies and eternal friends, that fact will never change.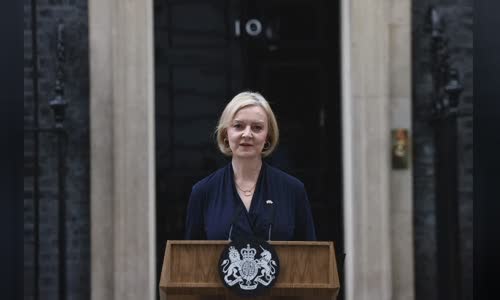 Mr. Biden's comments came after British Prime Minister Truss announced his resignation in the context of being under pressure.
Our country always has a special relationship with the United Kingdom, not to relate to what our president of the president of the Party or the political issues of the British Prime Minister.
Klain cited a number of issues that the two countries were concerned about, including Russian military campaigns in Ukraine.
French President Emmanuel Macron wishes England quickly return to stabilize between the context of political and economic chaos.
I want to say that France, as a country and friend of the British people, wishes above all the stability for their country, he said, emphasizing the context of Ukraine and the crisis of energy price.
British Prime Minister Liz Truss resigned in front of the Prime Minister's office at 10 Downing Street, London on October 20.
Prime Minister Ireland Micheal Martin said that he must appoint a new Prime Minister as quickly as possible to ensure political and financial stability.
I think the stability is very important, in the context of the quite serious geopolitical issues that Europe faces, as war in Ukraine and the energy crisis, he told reporters in Brussels, Belgium.
The Dutch Prime Minister Mark Rutte expressed his regret when Truss resigned.
Meanwhile, the Russian Foreign Ministry welcomed the departure of Ms. Truss, saying that she was shame and would be remembered because of the disaster ignorance.
People will remember the ignorance of the disaster and the queen's funeral immediately after she received Liz Truss.
Zakharova's comment seems to mention Truss's Moscow's visit to the British Foreign Minister, just before Russia opened a military campaign in Ukraine.
In his resignation speech, Truss said that he had met the 1922 Chairman Graham Brady and agreed that the new leadership election would be completed next week.
Former Finance Minister Rishi Sunak, the opponent who was defeated by Truss, the leadership of the House of Representatives Penny Mordaunt and Defense Minister Ben Wallace are candidates who can become the next leader of the Conservative Party.
This is a modal window.
Beginning of dialog window.
End of dialog window.
Prime Minister Liz Truss started on October 19 with difficulties when the new statistics showed that the UK inflation reached 10.1%, the highest level in 40 years.
After dismissing the Finance Minister a few days ago, British Prime Minister Liz Truss now struggled to save his own chair.