The Estonia National Assembly today voted to condemn Russia's merger of four Ukrainian provinces into the territory, considering the country as a terrorist sponsoring country.
Supporting a call from the Ukrainian National Assembly to countries and international organizations, the Estonia National Assembly (Riigikogu) considers Russia as a terrorist nation and a terrorist state, Estonia National Assembly today said.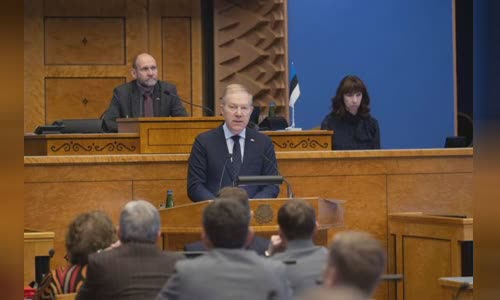 The statement of the Estonian National Assembly received 88 votes of support from 101 MPs, while the three MPs voted and 10 were absent.
According to the Estonian parliament, the nuclear warnings from President Vladimir Putin turned Russia into the biggest threat to peace in Europe and the world.
Russia has not yet commented on the move of the Estonian National Assembly.
The Estonia National Assembly discussed a statement of Russia in Tallinn on October 18.
In this move, Estonia is the third country with the National Assembly who considered Russia as a terrorist sponsoring country, after Lithuania in May and Latvia in August.
Meanwhile, US President Joe Biden last month said that Russia should not be considered a terrorist sponsoring country, although the Ukrainian -level counterpart Volodymyr Zelensky repeatedly urged the White House to do so.
As we said many times before, this was not the most effective and best way to make Russia responsible, the White House press secretary Karine Jean-Pierre said on September 6.
President Zelensky announced that Ukraine would defeat Russia and said this was the victory for all people in the country.
Ukraine condemned Russia as a terrorist country at the UN emergency meeting, after Moscow raided the country's series of missiles.
Kiev supported the conclusion of an international committee that Russia should be considered a terrorist sponsoring country, calling for expansion of sanctions on Moscow.