President Macron said France would give Ukraine 6 Caesar self -propelled artillery and significantly armored armored amounts to deal with Russia's campaign.
At NATO, we agreed to decide like a few days ago at the European Council (EC) and G7 to promote economic, humanitarian and military support for Ukraine, French President Emmanuel Macron posted on Twitter day dated day day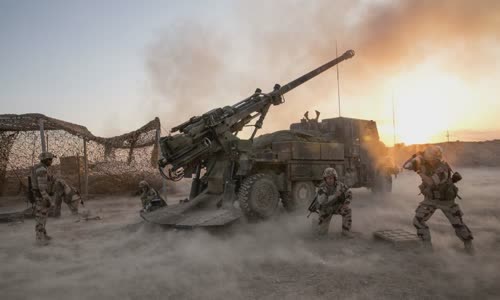 In a joint press conference with Ukrainian President Volodymyr Zelensky, German Prime Minister Olaf Scholz, Italian Prime Minister Mario Draghi and President Romania Klaus Iohannis, Mr. Macron recalled the aforementioned self -propelled artillery plan and asserted that Europe would be close to
French soldiers fired Caesar artillery during the campaign in Al Quim, Iraq in May 2018.
France transferred to Ukraine 12 Caesar complexes, a 155 mm self -propelled self -propelled cannon on truck body 6x6 or 8x8.
The Russian force is said to destroy at least one Caesar self -propelled artillery when ambushing Ukraine artillery unit to operate this weapon on Kubansky Island.
The representative of the Uralvagonzavod factory (UVZ) of Russia sarcastically that they thank President Macron for sending self-propelled cannons, saying that the Caesar complex is not as special as the Russian MSTA-S model, but still useful.
This is a modal window.
Beginning of dialog window.
End of dialog window.
The Russian Ministry of Defense announced that the country's military destroyed a Caesar self -propelled cannon produced by France and was deployed in southwestern Ukraine.
French politician Cadenas criticized Ukraine leaving two Caesar self -propelled cannons on the battlefield, and attacked Macron for this aid.